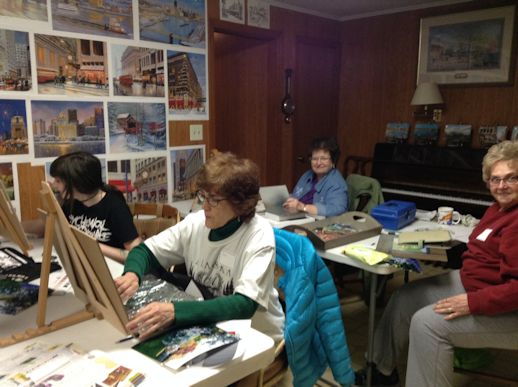 This week was the first meeting of my new pastels class. What a pleasure to have such motivated and dedicated students! The class consists of aspiring painters of all ages, and everyone showed up excited to get started.
I couldn't have asked for a better group of students… Everyone encouraged and helped each other. I felt like there was a powerful creative energy at work in the studio. There were actually moments when everyone was concentrating so hard you could hear a pin drop. We all had a wonderful time and did great things. I can't wait until next Monday to continue our creative journey together!
Good thing I've finally recovered from my 10 days at the incredible (but exhausting!) Pittsburgh Home and Garden Show, because I just had a super busy week. In fact, I have some exciting news to share with you!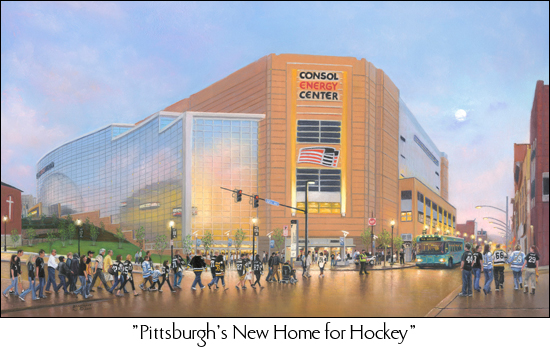 "Pittsburgh's New Home for Hockey" and "Winter's Glow on Grant Street" (my newest painting). I felt like a mother bird sending her babies out from the nest… sad to see them go, but happy because they have gone to a wonderful new home. The only problem is that now I've had to rearrange all of my paintings to fill in the empty spots on my walls. I told Tom, "Looks like I better get back to the studio! No time to waste!"
I hope you have a peaceful and productive week as we enter into springtime at last! Keep me in mind when you're looking for a memorable gift for someone special! Remember, a Pittsburgh painting or beautiful landscape makes an awesome birthday/Easter/Mother's Day present!
Make sure you are the first to know about all of my news, appearances and any "special deals" I am offering to my subscribers, by taking the time to sign up for my weekly newsletters now. CLICK HERE to sign up. You will also receive a FREE slideshow showing the step-by-step development of my painting, "Celebrating Time and Tradition at Macy's".