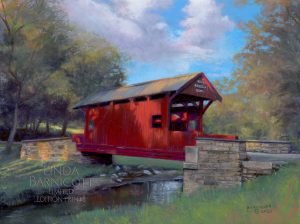 Sending out a big thank-you to everyone who reached out to wish me well in the art workshop I attended last weekend. Your good wishes paid off in many ways! Quite honestly, I never know what I'll learn when I attend a workshop, but gathering together with other pastel artists is always inspirational.
In my spare time, I worked on a new piece, hoping to finish it in time for this weekend's upcoming show at the Washington and Greene Counties Covered Bridge Festival. It must have been all those creative vibes flowing – not surprisingly, it turned out to be the perfect time to be "in the zone!"  I finished the painting yesterday morning and rushed it straight to my printer. I hope to have it up on my website ASAP.
In the meantime, here's "Evening at Ebenezer Covered Bridge" as a work-in-progress: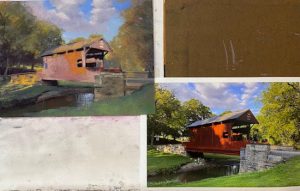 "A summer evening at Mingo Creek Park will inevitably bring you to the historic Ebenezer Covered Bridge. Whether by trail or winding road, experiencing this classic bridge with a gentle stream beneath it will take you back to a simpler time." 
I love the tranquility of this early-evening painting, and I hope you enjoy it, too.
I'll have a few of the 8" x 10" prints available at my booth this weekend. For those of you who are coming out to the show, keep in mind that it will be mostly "cash-only." I know it's inconvenient, but there's a perfectly good reason for it!  Because Mingo Creek Park is in a valley, I'm usually unable to connect to the server required for credit transactions. The good news is that there's an ATM set up there for your convenience.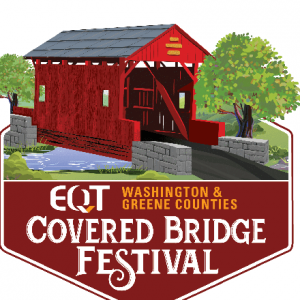 The Washington and Green Counties Covered Bridge Festival runs Saturday and Sunday, September 18th and 19th from 10 a.m. to 5 p.m.  It's a lovely show with lots of vendors and great food and entertainment. Come out and see me and spend a lovely day in the country… and maybe even take a walk along the rocks and dip your toes in the creek! I hope to see you there!