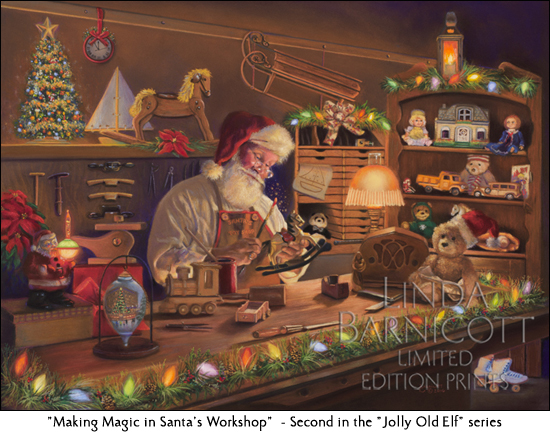 After months of hard work (and fun!) creating my new painting, "Making Magic in Santa's Workshop," I can finally say "It's finished!" And this week I transformed it into an archival giclee print that is now available to the public – live and for sale on my website. CLICK HERE to learn more.
So why wait for Christmas when you can celebrate right now?
The original painting has already been sold to a Santa Claus collector in Connecticut. When he saw the finished painting, he shared a beautiful quote with me:
"Blessed is the season which engages the whole world in a conspiracy of love" – (Hamilton Wright Mabie, American essayist)
I hope this painting touches something in your heart as well and that you'll make my Santa paintings part of your holiday decor, give them as gifts, or add them to your own collection.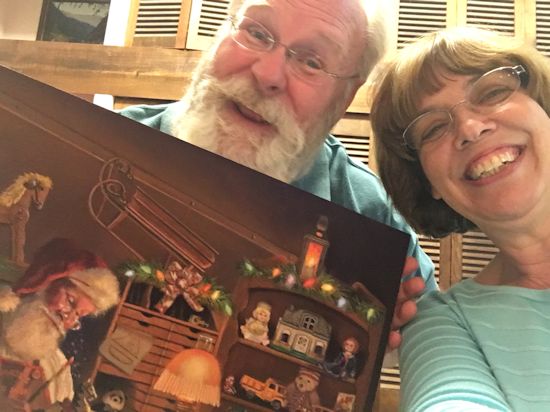 "Making Magic in Santa's Workshop," is the second of five major limited-edition prints in my "Jolly Old Elf" series. A new painting from the series will be released each year over the next four years.
If you're interested in the entire series, why not invest in the complete five-year collection now?
My premium series collectors are guaranteed the lowest price. They also receive a whimsical Santa companion print (9" x 12") for each year of the edition at no additional cost. Take a peek at the companion print for "SHHHH!", the first painting in the series. It is titled "Santa's Newest Reindeer."
Again, the companion prints are a free bonus for collectors of the complete series (they will be offered to the public individually at $70.00 each for purchase at a later time). If you're interested in the entire five-year series, give me a call at 1-888-PITT-ART or email me at info@lindabarnicott.com, and I'll assign you your very own number in the edition!
If you've already subscribed to the series, I'll be in touch soon about delivery. Or if you purchased the first painting in the series, "SHHHH!", and want to collect all five, just call or email me for your special price!
Meanwhile, I hope you'll enjoy this little story about the painting… written by "Santa" himself:
"Oh, she's just going to love this," thinks Santa Claus as he puts the finishing touches on a rocking horse that a special little girl wanted just for her doll. More often than not, Santa likes to put on his apron and walk to the back corner of the Workshop, where he likes to tinker with the old tools that he began with so many years ago with his very own workbench. The elves can always use a little help, and Santa finds that working with his hands brings a sense of peace and relaxation. "Silent Night," sung by Bing Crosby, plays on the old radio from a late-night radio station somewhere halfway around the world. Christmas is getting nearer, and all is calm… all is bright.
But it's not the toy making or the music that brings the smile to Santa's face. It will be the look of joy on that little girl's face this Christmas morning when she comes downstairs and sees the toys that were made just for her."
~~~
Make sure you are the first to know about all of my news, appearances and any "special deals" I am offering to my subscribers, by taking the time to sign up for my weekly newsletters now. CLICK HERE to sign up. You will also receive a FREE slideshow showing the step-by-step development of my painting, "Celebrating Time and Tradition at Macy's".