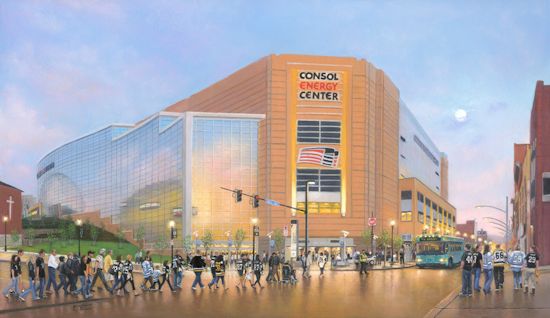 Reason Number One: How about those Pens winning the Stanley Cup? The only way it could have been any sweeter is if they had won the game the night before at our own Consol Energy Center – the subject of my painting, "Pittsburgh's New Home for Hockey." It's a perfect gift to commemorate our HUGE Stanley Cup victory! CLICK HERE to purchase the print or giftware.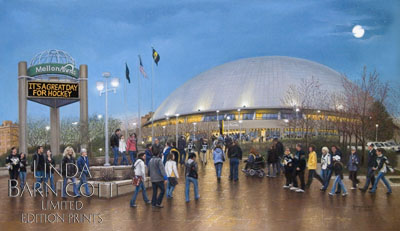 For those whose Pens memories go back to pre-Consol days, I also painted the Pens' former home in "Hockey Fever at Mellon Arena." Only four artist-enhanced prints are left, though I do have quite a bit of giftware available with that image on it. Just let me know if you have any questions or you're looking for something in particular, and I'll do my best to make this Father's Day very "sports-special!"
And speaking of Father's Day, I want to wish a happy one to all you Dads and father figures out there! I hope you have a great weekend coming up. I know I'll be doing my utmost to make it a special day for Tom… let's face it – he has been an awesome Dad to our two beautiful girls, and I know he's going to be an even better Grandpa to our little granddaughter-to-be, Aria Grace.
As we're halfway through June and the summer is just flying by, I just want to remind you to visit my one-woman museum show at the John A. Hermann Museum in Bellevue. The show closes after the last weekend in June. If that location is convenient for you, you can pick up a spur-of-the-moment Father's Day present from my selection of prints and gifts available there for purchase. The museum is located at 318 Lincoln Avenue in Bellevue and is open from 12 to 4 p.m. on Saturday and Sunday.
Lastly, thank you for the tremendous response to my last two newsletters. I'm delighted that the news about my latest painting, "Making Magic in Santa's Workshop" has been so well received. Who knew people would want to hear about Santa, toys, and snow in 90-degree weather? (Well, I guess ice is on the minds of Pittsburghers lately with the Pens' victory!). It may be summertime, and the flowers outside are blooming beautifully, but I wanted to give you a jump on this coming holiday season – it will be here before you know it!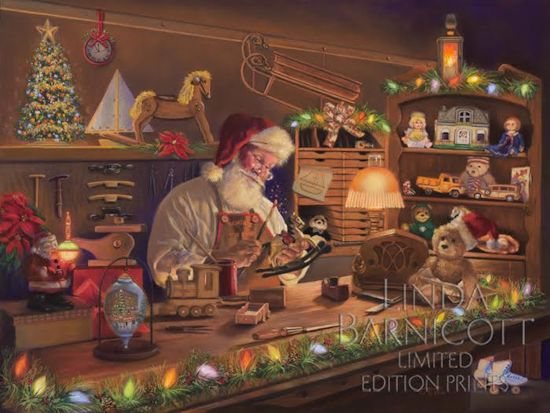 I would love to hear your favorite stories about your own dad or another man in your life who has meant a lot to you. When you're looking for the perfect Father's Day gift for your own special guy, why not choose a gift that will remind you both of happy memories together from younger days? CLICK HERE to shop my website for that perfect gift. I'll be delighted to personalize something meaningful for you.
Make sure you are the first to know about all of my news, appearances and any "special deals" I am offering to my subscribers, by taking the time to sign up for my weekly newsletters now. CLICK HERE to sign up. You will also receive a FREE slideshow showing the step-by-step development of my painting, "Celebrating Time and Tradition at Macy's".