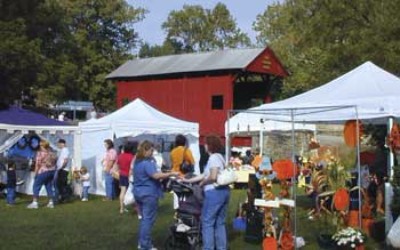 Seems like I'm always on the move these days! With my super-busy Fall Schedule, if you blink, you might miss me!
For now, I'm back in Nashville again, spending some time with my Mom until the weekend. I swear I'm done traveling for this year – I have so much to do in the Pittsburgh area, there won't be time to go anywhere else. When I return in a few days, I'll dive right into my painting projects and get revved up for a full schedule of "Meet the Artist" opportunities around Pittsburgh. You can predict my whereabouts by checking the Calendar of Events on my website, www.LindaBarnicott.com/events.
The Washington County Covered Bridge Festival was amazing! The weather was perfect, and the people were wonderful. I love getting out to the shows, being outdoors, hanging out with old friends, and meeting new friends. "Shhhh!" and "Santa's Newest Reindeer," were a big hit, and the "Shhhh!" Christmas cards are selling like hotcakes!
Speaking of Santa… I just talked with him this week, and I have some exciting news! On Saturday, October 17th, he will be making an appearance with me at the Courtney-Laughlin Gallery in Beaver from noon to 3 pm! Who can pass up an opportunity to meet and greet the Jolly Old Elf, Santa Himself? Bring your cameras and get some selfies. I'd love to see you there – come out and visit this lovely gallery and join in the holiday fun! Click Here to find out more about this event.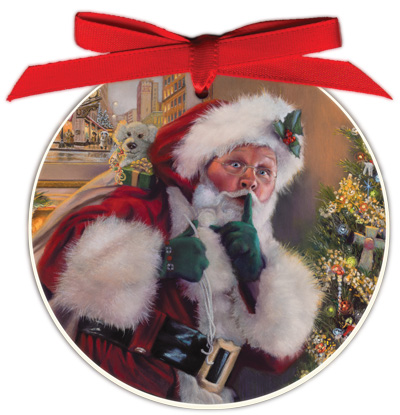 I'll be celebrating my 35th wedding anniversary weekend (October 9-11) in Ligonier this year, where I will be exhibiting on the Loyalhanna Lot for Ligonier Days! Ligonier Days is one of my favorite shows. There is always so much to do! The highlight of the weekend will be the unveiling of my newest painting for Breathe Pennsylvania, the Ligonier Gazebo in the Diamond. I will also have the new ceramic ornament of "Shhhh!" available at that show, as well as my usual stock of prints and giftware.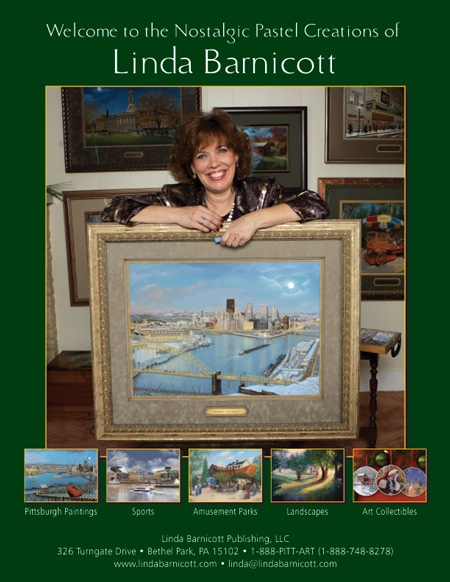 In other news, my new 20-page full-color catalog is ready! When I return home, I'll be sending out a copy to all of you who have requested one. I love the way it turned out and how it makes my art look fantastic.
It's not too late to request a catalog with plenty of time for holiday shopping! If you'd like to browse my "store" in the comfort of your own home, I'd be happy to send you a copy at no cost. Just shoot me an email at info@lindabarnicott.com with your contact info, or give me a call at 1-888-PITT-ART (local Pittsburgh people, call 412-283-4072).
Make sure you are the first to know about all of my news, appearances and any "special deals" I am offering to my subscribers, by taking the time to sign up for my weekly newsletters now. CLICK HERE to sign up. You will also receive a FREE slideshow showing the step-by-step development of my painting, "Celebrating Time and Tradition at Macy's".