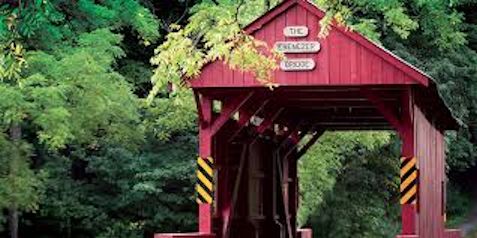 I hope you're all doing well this week and ready for a great weekend! Show Season is underway, and my next stop is the Washington County Covered Bridge Festival on Saturday and Sunday, September 19th and 20th between 10:00 AM and 5:00 PM. My booth will be in Mingo Creek Park by the historic Ebenezer Bridge.
I would love for you to come visit me under the bridge! So if you'll just print out this blog and bring it with you to the Festival, I'll give you what will probably be your very first Christmas Card of the Season! I'll also have the cards available by the box at my booth.
As many of you read in my last post, I'm visiting with my mom in Nashville this week, but soon I'll be on my way home for the show this weekend. Then it will be back to Nashville again until September 26th when my sister and her husband return from celebrating their 40th wedding anniversary.
In the meantime, I'm excited to show you the preliminary work on my latest project. It will be a new holiday painting for Breathe Pennsylvania, and the subject is the Ligonier Gazebo. I usually make you wait to see it until I'm finished, but I thought you might like to see it as it develops! Don't worry, it still has a long way to go!

The Ligonier Gazebo will be the last in a five-year series of Christmas prints and ornaments that I've created to help raise money for this fine nonprofit dedicated to the fight against lung disease in Western Pennsylvania. Previous paintings in the series included:
~ "Pittsburgh's Shimmering Season"
~ "Winter's Beauty at McConnell's Mill"
~ "Holiday Memories Under Kaufmann's Clock"
~ "Holiday Greetings From My Hometown"
Let's hope the weather holds, and maybe I'll see you this weekend!
Make sure you are the first to know about all of my news, appearances and any "special deals" I am offering to my subscribers, by taking the time to sign up for my weekly newsletters now. CLICK HERE to sign up. You will also receive a FREE slideshow showing the step-by-step development of my painting, "Celebrating Time and Tradition at Macy's".