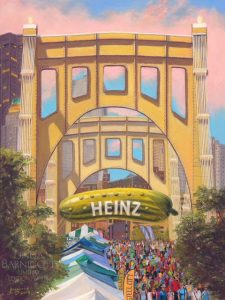 Picklesburgh is one of Pittsburgh's favorite summer festivals. In fact, USA Today readers recently voted it the #1 Specialty Food Festival in America! Every year, Picklesburgh attracts bigger and bigger crowds of happy people eating and having a good time… and of course, pickles, pickles, pickles everywhere you look!
I missed last year's event because I was on an amazing family vacation to visit The Mouse with my grandgirls, but I'm back for 2023… and boy, do I have the pickle gifts for you!
Picklesburgh is growing every year, so the festival has a new footprint for 2023. Instead of
being set up on the bridges, it will be between Stanwix and Smithfield Streets on the Boulevard of the Allies. You'll find me in Lot D, Tent 73, close to the entrance with the Holiday Pickle floating overhead.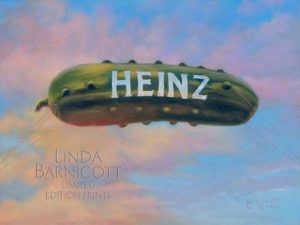 Not only will we be celebrating all things pickled this weekend, but we'll also be celebrating Christmas in July. My booth will also be stocked with holiday gifts for those of you who like to plan ahead!
Speaking of the Holidays, if you stop by my tent and pre-order my new painting, "Glad Tidings at Gimbels," at the show, you'll get free shipping!
Can't make the show? Order your print online and receive 15% off the price before its release date on August 1st! (Online orders only) Check it out at https://lindabarnicott.com/product/glad-tidings-at-gimbels/
Tom and I are all packed up and ready to move in. Has it really only been a week since we were strolling the Italian countryside? Time flies!
The show starts at noon on Friday – can't wait to see you there!
PS – You can get the whole dill about Picklesburgh by visiting www.picklesburgh.com!