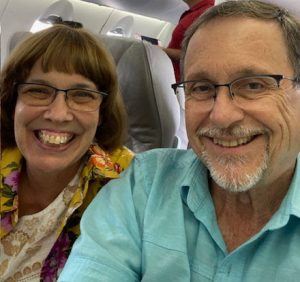 I'm writing these words from Pittsburgh International Airport as Tom and I begin our Italian adventure!
Before we take off, I have some GREAT news to share with you!  Prints of my new painting, "Glad Tidings at Gimbels," are now available at a preorder price of 15% off – no code necessary!  My latest pastel painting will be released in a limited-edition giclee print on August 1st, and I am taking 15% off the price on all preorders before that date. You can order your print by clicking here.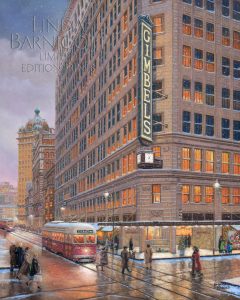 The edition will include 50 Artist Proofs, 50 Artist-Enhanced (with soft pastels), and 500 standard-edition prints. Each one will be numbered and signed in gold. Each print will be a giclee, archival, and printed on the highest-quality museum paper.
"Glad Tidings at Gimbels" is the perfect addition to my nostalgic Pittsburgh paintings series, "Wishing Under the Horne's Tree," "Holiday Memories under Kaufmann's Clock," and "Meet Me Under Kaufmann's Clock, Too!" Make your memories of shopping downtown back in the day complete with this iconic trilogy. Check them out at www.lindabarnicott.com.
A big "Thank You" to each and every one of you who provided a piece of the "puzzle" and helped me develop this painting from a dream to reality.
Want to help make this Holiday Season a blast from the past? Get your print of "Glad Tidings at Gimbels" before August 1st and save 15%!