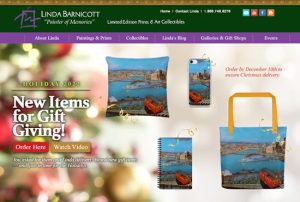 Remember how last year I sent out a survey asking my newsletter readers to let me know what kinds of gifts you would like to see featuring my artwork? Well, I then started diligently researching gifts that I could stand behind. I looked for items that were unique and well made, with vibrant colors, both fun and functional (because that's just how I roll!).
In the end, I approved four new products that are now for sale on my website. They're made to order, so please note the must-buy date to make sure you get them in time for the holidays. I hope you love them as much as I do!
I even made an unboxing video of me opening this box of goodies. It felt like Christmas! You'll even see one item that I didn't approve of. I am very honest about how I feel where my art is concerned.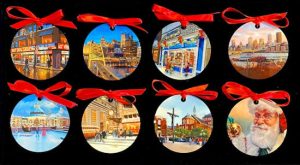 This week, I updated my website with all of my new ornaments and made sure we'll be well stocked and ready for you, my customers! Last week I introduced "Santa's Favorite Toy Store." These 2.75" round ornaments are amazing, and the colors are vivid and intense so that whoever you gift it to will be sure to enjoy them for years to come. They're made of durable metal – so no worries about breaking them! Each one has a pretty red ribbon to hang from the tree, and did I mention they were light? These little treasures definitely won't weigh down the branches.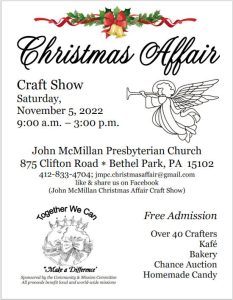 After missing two years because of COVID, "A Christmas Affair" is back this Saturday, November 5th at the John McMillan Presbyterian Church (875 Clifton Rd, Bethel Park, 15102) from 9 a.m. – 3 p.m. I really love this show, and I'm so excited that they're back up and running for 2022! There will be a ton of vendors and lots of good food. I will be in the same room where I've always been (Room 9/11) and will have all my new ornaments and new prints with me.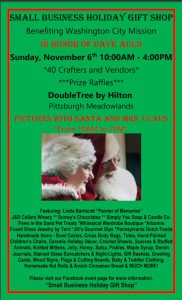 If you can't make it to "A Christmas Affair," come see me at The Small Business Holiday Gift Shop, a benefit for the Washington City Mission in honor of Dave Auld. It's located at the DoubleTree by Hilton at Meadow Lands from 10 a.m. to 4 p.m. this Sunday, November 6th. There will be free photos with Mr. and Mrs. Santa Claus from 10 a.m. to 2 p.m., so bring the children!
One more thing… can you believe it's almost time for the Holiday Market in Market Square?
I just received notice today that I will be in the same Chalet where I was located last year. Mark your calendars – the market opens at 11 a.m. on November 18th and runs every day (except Thanksgiving) right up to the last minute on December 24th.