I need to hydrate and get some sleep while I can, because my 2022 Holiday Marathon officially begins this weekend!
First, my final indoor show for the year is this Saturday, November 12th.   (You know, the show before the one where I remain perpetually cold for five weeks?) I'll be selling at the Bethel Presbyterian Church for a holiday vendor show from 9 a.m. to 3 p.m. The church is located at 2999 Bethel Church Rd, Bethel Park 15102. I hope you'll come visit me!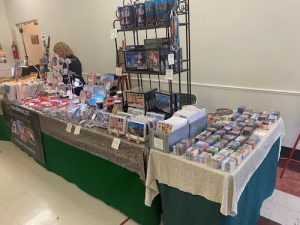 I've added many cool gift options for my new-for-2022 paintings, and I'll be fully stocked on Saturday with all my new ornaments, magnets, and prints. I will even have a limited supply of brand-new thirsty stone coasters. (Shhhh! No one else knows I have them!)
But, as they say, there's no rest for the weary – because right after the show closes on Saturday, Tom and I will be heading downtown to begin setting up for the Holiday Market in Market Square. Can you believe it's that time again? How did a year pass so quickly?
The truth is, I can't wait! I created four new paintings this year, and they will all be available at the Holiday Market.
I'll also have new puzzles at my booth on Saturday, including the latest design that just came in yesterday, "A Holiday Tradition."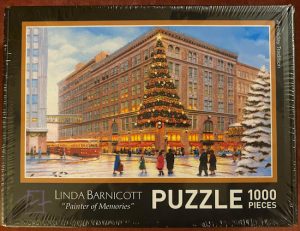 Last year my puzzle of Kaufmann's Clock was the big fan favorite… so what better to follow it up with than the Horne's Tree?
If you're interested in a puzzle, please try to see me earlier in the season rather than later – my inventory is limited to what I can get before the holidays.
If you can't make the shows (indoor or outdoor!), check out my new Specialty Gifts on my website https://lindabarnicott.com/product-category/specialty-gifts/ So far, the pillows have been very popular… I love them too! They're so soft and cuddly! And all my new ornaments are now up on my website, https://lindabarnicott.com/product-category/ornaments/
Looking forward to seeing you during my Holiday Marathon!