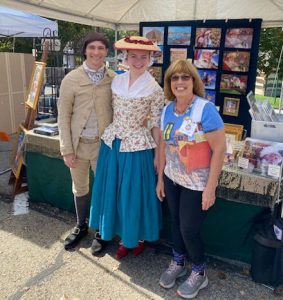 So after a whirlwind weekend creating last week's new release, "Santa's Merry Wink," did I take a break from the studio? No! Instead, I turned my sights to a new painting for Fort Ligonier Days. Of course, there's a story here to be told!
Last year at the Holiday Market in Market Square, I struck up a conversation with a gentleman where the topic turned to Fort Ligonier Days. I mentioned that I had been set up in the Loyalhanna Lot for over a decade, where I enjoyed listening to the reenactments and visiting with several of the participants in their "really put-together" outfits. I even told him about how (as I mentioned in last week's blog) I would jump every time the cannons fired. Honestly, it got me every time. And I mean E-V-E-R-Y time!
He mentioned that he helps organize the parade every year and that he would like to see me up in the Municipal Lot off North Market Street. So with his help, I'll be enjoying my new space in Booths 19 and 20 this year.
Another topic we talked about at the Chalet was how happy they were with the look of the new Diamond (Ligonier's town square) and that it would make a really nice painting. He sent me a few photos of some of the holiday decorations that they put up around the bandstand as well.
As I often do, I let the idea percolate in my brain all year. But even after the whirlwind painting of "Santa's Favorite Toy Store," followed immediately by "Santa's Merry Wink," I found out that The Muse wasn't done with me yet.
Last week, Tom and I drove up to Ligonier to take some new photos of the detail around the square, and I matched them up with other photos I took last January. Though the original pastel isn't very big (9" x 12"), I asked myself, "What if?" Could I paint a piece with so much detail in less than a week? Well, once again, I didn't come out of my studio all week except to see my beautiful grandgirls.
Looking over the photos, I decided to include the wooden cut-out carolers because they reminded me of Charles Dickens' "A Christmas Carol," one of our family favorites. I also included the lovely shops that graced the background and the majestic Town Hall with its bell tower. I added the moon and lots of snow to make it sparkle. I even added something extra that you won't see in the prints – a special treat for whoever purchases the original… a luminous pastel that adds a subtle, pretty shimmer to the snow.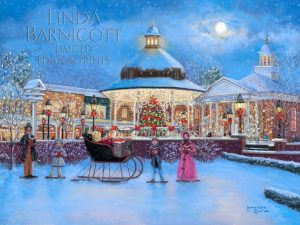 Allow me to introduce my latest painting, "The Diamond Shines in Ligonier." It's available as a limited edition of 50 Artist-Enhanced Giclees (17.25" x 23"), as well as an open-edition 12″ x 16″ giclee print. Follow this link to order https://lindabarnicott.com/product/the-diamond-shines-in-ligonier/.
I'm excited to show you all my new paintings and new art gifts for the upcoming Holiday Season! For those of you who come out to see me at Fort Ligonier Days this weekend (October 14-16), I'll also have new ornaments of all four of my 2022 paintings, including "Pittsburgh at First Light."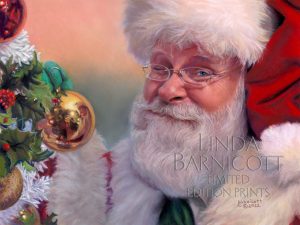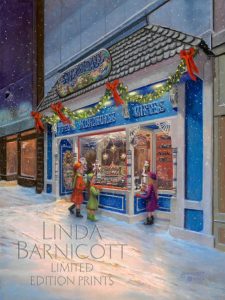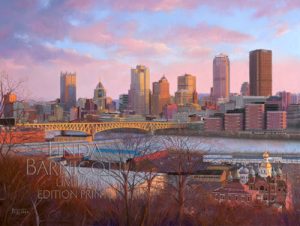 Fort Ligonier Days is a big deal, and it just got a little bigger! Come join the fun and visit me at Booths 19 and 20, across from the YMCA!
Looking forward to seeing you there!