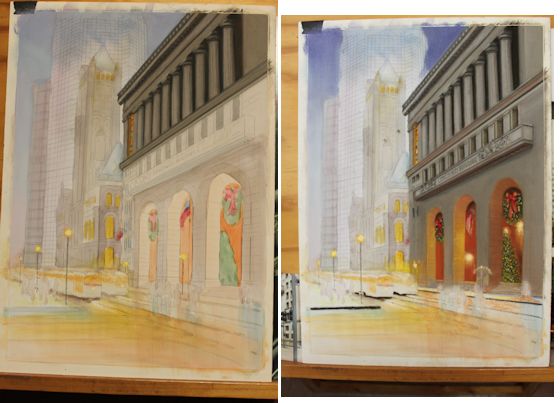 On this brilliant sunny late summer afternoon, I have to admit it feels a little weird to be painting bright and festive holiday décor and glittering lights with people bundled up against the cold! But that's just typical on an artist's schedule – in the summertime, I'm working hard at my easel, recreating the warm glow of the winter holidays. And when the snow flies, I'll be dreaming of and painting lush green springtime landscapes!
As you know, I exhibited my original paintings at Shadyside: The Arts Festival On Walnut Street last weekend. It was a wonderful show, especially because so many friends and fans came out to see me. I loved talking with all of you and helping connect people with that special piece of art that was just right for them. I'm definitely looking forward to participating in the show again next year!
Now that the intensity of the Arts Festival is behind me, I'm back at my easel this week. If you look at the pictures above, you can see the progress I've made on my latest painting! I'm a little behind schedule because I was so busy with my big move and with the Festival, and I just started the actual pastels this week.
"Winter's Glow on Grant Street" is this year's subject for the American Cancer Society's 2014 holiday card. I am honored to have been chosen to create these cards every year for the last 16 years. Imagine how gratifying it was to find out that the cards with my designs have raised over $750,000 for cancer research and prevention! It's is amazing what a little holiday greeting can do for others. What a blessing!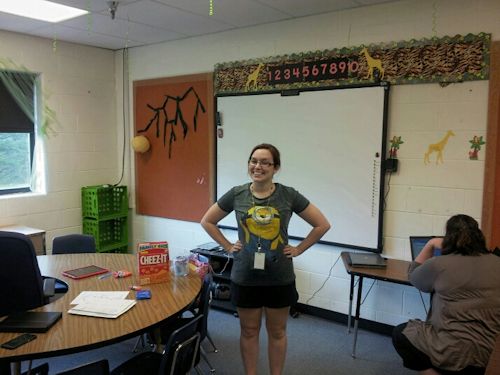 Speaking of seasonal things… it's Back-To-School time again for my daughter Alyssa – but this time she'll be a teacher instead of a student. She is working as a Multi-Categorical with Autism Special Education Teacher at Upshur County Schools in West Virginia. Needless to say, I'm very proud of who she has become! I hope you're enjoying this back-to-school season with your families!
Over time, we all have special loved ones who move away from "The Burgh" to find their destiny, and I think out of all expatriates, the ones most likely to be homesick are the former Pittsburghers! Many of my loyal customers purchase paintings and gifts from me because they say their distant loved ones really miss their hometown, and having a visual reminder brings them some joy until the next time they can visit. Some of my clients have even said they've given my Pittsburgh-themed prints and gifts as a not-so-subtle hint to remind the recipient of what they're missing! Trust me, I have proof that it works!
So, if you are looking for something beautiful, a little extra something to decorate a dorm room or brighten up a new home far away, why not choose a piece of art that will remind them of you? And maybe even inspire them to come home more often? Check out the "Prints for Sale" or "Original Landscape Paintings for Sale" of my website for some really cool paintings and prints and look at the "Collectibles for Sale" section to find my line of unique collectibles that make great gifts.
If you want to receive information about all of my shows, my latest paintings and special offers only for subscribers, please take the time to sign up for my weekly newsletters. CLICK HERE to become a subscriber. When you sign up you will also receive a FREE slideshow showing the step-by-step development of my painting, "Celebrating Time and Tradition at Macy's".