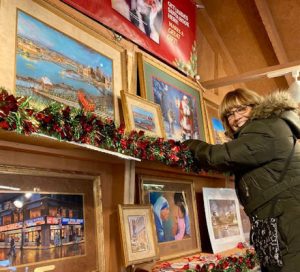 I've been wondering all year how the 2021 holiday season might play out. Given that pandemic issues are still with us, I was afraid the holidays this year might again be less than merry for me. Fortunately, it seems that my fears were groundless! I've been immersed in the bustle of the holidays, feeling the festivity and laughter of folks enjoying themselves as they explore the Holiday Market.
I even sang along with the beautiful Christmas music being played on the Market Square stage. Tom and I also found a new SXM radio station of holiday music from days of old. We listened to it every day on our drive into Market Square and every night on our way home. Those beautiful tunes had a very calming effect on my spirit at a time when life seemed so hectic.
Tom and I were so busy this season that it took us a week to get our tree up.  First, we bought a tree and got it home, only to realize it was, in fact, pretty much dead. The next day, we went out again and found another tree that was too big for our small living room, so we had to cut part of it off in order for it to fit. Then as soon as I finished putting the lights on the tree, half of them promptly went out. After another trip to the store, Tom put them on the tree this time. (I didn't want to jinx it!) Now I'm thinking this tree may be my favorite of all time!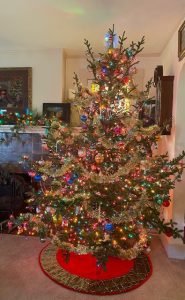 A friend of mine once suggested that I should pick a "word of the year" to help keep me motivated. This year, my word was "Gratitude."
First off, I am so grateful to have all of you in my life and for how many of you I've heard from this year. It really did my soul good to see those of you who were able to make it to the Holiday Market. I'm also grateful for the good weather we had this year – there were only a handful of days when the weather didn't cooperate – and for not having any other issues during our five weeks at the Chalet.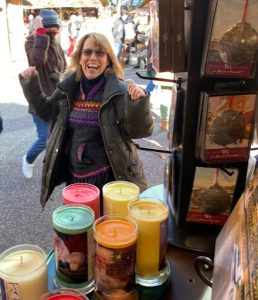 I've also been grateful for the chance to spend so much time with my husband, working as a team behind the counter at the Chalet.  We commented today how we both love interacting with people from all walks of life and hearing their stories. I'm grateful to all my helpers and to everyone else who helped provide me with everything I needed to make this season successful. This year's Holiday Market has been by far my best show yet.
Today is our last day for the season in Market Square. It's not too late to pick up a few last-minute gifts… or maybe just stop by to say hi as Tom and I hit the home stretch! We'll be working tonight right up to 9 p.m., then the fun begins as we have to break down the whole chalet and bring home anything that's left.
Wishing you all Happy Holidays and a Merry Christmas from the bottom of my heart…
May your holiday be blessed with the love of family and friends…
May joy fill your hearts…
And may the Spirit of Christmas continue to live in you throughout the coming year!