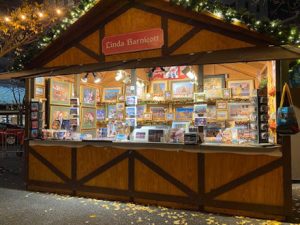 Ho-Ho-Ho!  I feel as if I've been playing the part of Santa's helper at the Holiday Market today as I help folks pick out that perfect gift. But lately there's been a lot of mystery about this Linda Barnicott person and who she really is. I may even be getting a bit confused myself. Which Linda Barnicott is the REAL one?
Just since the start of the Holiday Market on November 19th, there has been quite a bit of confusion about who I am.  Someone thought I was Tom's mother (Tom thought it was hilarious to call me Mom all evening)!  Others thought I was my daughter's sister, Santa's wife, or even Santa's daughter.
Then, the other night while I was away from my booth, someone got my work confused with that of a famous Pittsburgh photographer. The funny – and exasperating – part was that no matter how hard Breann (my amazing helper) tried, she couldn't convince her that my prints were paintings, not photographs.
I also recently had the opportunity to feel both young and ancient within just a few hours. One nice person told me that I seem to be "aging backwards," which was great for my ego.  But then I heard a gentleman tell his wife that I had been painting "forever." And worse yet, someone thought I was deceased!  As far as peoples' perceptions of me go, I think I've heard it all.
Nonetheless, the best part of being at the Holiday Market is visiting with so many friends (new and old) and hearing their stories about what my art means to them. Some tell me about their memories of the places I've painted, and some tell me about what my art has meant to their loved ones. I feel truly blessed when folks those stories share with me, especially at this time of year.
When I'm not talking to my customers, it's fun to watch the men, women, and children in their colorful holiday apparel who come to Market Square to enjoy a festive outing.  I love watching ornament exchanges, excited children anticipating seeing Santa, and holiday shoppers carrying their packages. The lights and music and laughter ringing through the air makes nights in Market Square magical in the holiday season.
Why not be a part of what's becoming a Pittsburgh holiday tradition? Come on down to Market Square in Downtown Pittsburgh!  The Holiday Market is open seven days a week at 11 a.m., and I'll be there every day until December 23rd.
I would love to see you!