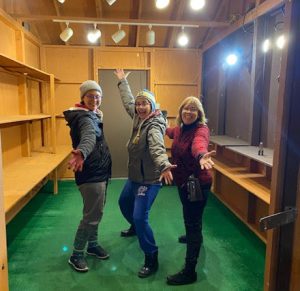 First off, I'd like to wish a happy, safe, healthy, and prosperous New Year to each and every one of you, my faithful readers! Your support has meant so much to me and has helped me keep going through these last two crazy years.
So, speaking of crazy…
Since I last wrote to you, I closed down the chalet in Market Square with a lot of help from Tom, Britt, and Breann. Somehow we dismantled all our displays, packed it all up, and loaded everything in the van last Thursday night without any issues.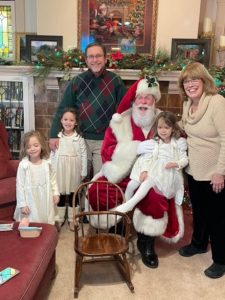 Then on Friday, Santa came to visit us and posed for a few pictures, and my grandgirls took turns sharing their Christmas wishes with him. They must think their grandma is a big deal if she can get them a private meeting with Santa! Christmas itself was a joyous day filled with family time, playing, and feasting.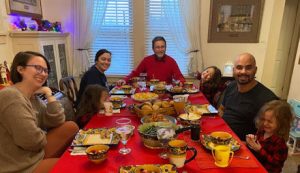 With the Holiday Market behind us, Tom and I were sorely in need of some downtime, so we headed off to Our Nation's Capital for a mini vacation to unwind. We found out there is also a Market Square here in DC, though it was not quite the same as ours. Every night since we closed, I have had dreams about the Holiday Market. I guess my subconscious hasn't quite worked through it yet!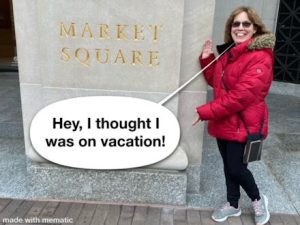 As we took in the sights in DC, we visited the Smithsonian Museums, and I couldn't help but be inspired. I mentioned to Tom tonight that I can't wait to get started painting new pieces when we get home… but first I have to get my messy studio under control!
So, while you're relaxing, sitting back, and enjoying the holidays, could you perhaps give some thought to what you might like me to paint this year? And of course, please feel free to share it with me!  I'm always looking for new ideas and subjects for my work… you never know what might happen!
I pray that 2022 brings us all peace and joy.  Once again, I want to say "thank you" to all who supported my work throughout the holiday season.
Here's to a blessed New Year to you and yours!