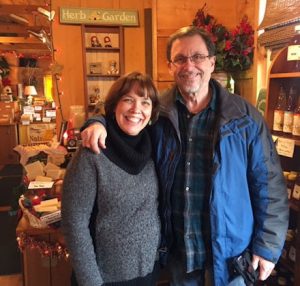 Sorry I've been off the radar for the last couple weeks – I've been very busy doing Artist Things!  Also, Tom and I took a much-needed four-day weekend break to recharge.  We visited Pennsylvania Dutch Country and stayed in the lovely old town of Strasburg at the historic Limestone Inn, built in 1786.  It's almost like having a time machine!
Yet as much as we appreciated the time away, I still couldn't wait to come home and get started on my new painting.  As you may remember, I recently asked my readers for suggestions for a subject for my next project.  I loved hearing your thoughts, and I got some excellent ideas for new Pittsburgh paintings.  In fact, some of you touched on an idea that has been percolating in my mind for some time now… a scene that I've wanted to paint ever since I first started painting Pittsburgh.
So here's how I came up with the idea for my new project:
As you may know, Tom and I started out in a long-distance relationship. On my first visit to Pittsburgh in 1977 (our first Pittsburgh "date!"), Tom picked me up at the airport.  We drove along the Parkway toward Downtown past green rolling hills and farms, and I had no idea what was on the other side of that tunnel.  Tom (probably intentionally) never gave me a hint that I was about to experience that first-time visitor "wow" moment.
I'm sure you know what I'm talking about…
As we emerged from the dimness of the Fort Pitt Tunnel, instead of more trees and hills, I found myself immersed in an incredible panorama exploding in front of me – a cityscape of steel and bridges and rivers shimmering in the sunlight.
Sometime later, after I had become a "real" Pittsburgher, the tunnels were under construction.  It was a perfect opportunity to go out there and take a few photos, but for some reason I didn't take advantage of it.  I always regretted it, and I've been thinking about painting that scene ever since.
Flash forward to 2019… just a few months ago, a photographer friend of mine, Emmanuel, was showing me some photos on his phone, and he happened to have one with the exact view that I'd been imagining painting for all those years.  I have to tell you, I got goosebumps! I'm not sure I've ever hugged anyone that hard.
From that moment, I knew what my next painting would be.  Emmanuel sent me several photos from his shoot from the top of the tunnels, and I've been able to combine different elements from his work with my own twist in the final composition.

So suffice to say, I'm hard at work on this project, and I'm hoping to be able to share the finished painting at the Pittsburgh Home and Garden Show next month. (Yes – more reliable than the groundhog, the Home and Garden Show – March 6 through 15 at the David L Lawrence Convention Center – is the true sign that Spring is coming to Pittsburgh!)
I'm starting a list for pre-orders, so if you're interested, please email me at linda@lindabarnicott.com