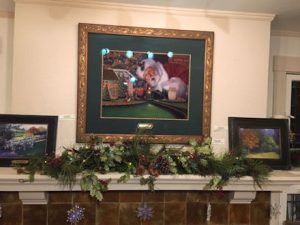 Welcome to Makeover Week at the Barnicott household!
With original paintings departing for their new homes and the need to create some order in my chaotic studio and store room, my focus has been on redecorating and reorganization for the new year.
Two big holes in my home gallery opened up this week – my original pastel painting of Heinz Field is vacating its space above my mantel and leaving for its new home in Florida, and the original "All Aboard with Santa" is also on its way to its new owner.  So now a big decision had to be made – choosing from my other existing originals to fill those empty spaces.  For one of them, we decided the honor would go to "Pickle Fun in Pittsburgh" (painted in July 2019), my tribute to Picklesburgh.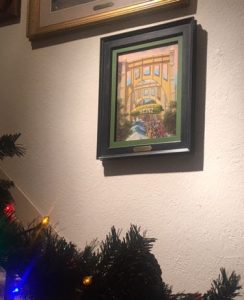 Over the weekend, Tom and I took advantage of the unseasonably warm weather and tackled the project of organizing the terrible mess I left behind in my storage area over the holiday season.  Candles, prints, and ornaments (and a lot of other things) were literally piled up everywhere, and empty boxes were literally stacked to the ceiling.  Walking through my studio and stock room was a really claustrophobic experience – it felt like the walls were closing in (because they literally were).
Tom is always understanding – he realizes that I need to go through a "nesting period" before I can paint again.  It took a lot of hard work and the better part of the weekend, but now my studio, stock room and storage areas are all nice and organized, which means I'll be back to work in the studio again very soon.  Of course, that means I have to decide on a subject for my next painting.
Here's the problem…  for the last five years, my primary focus has been on my (now complete) Jolly Old Elf Series, which has been a highlight of my career and one of my most successful projects.  So after Santa, what's next?  I want to turn my attention back to painting Pittsburgh in 2020, and with so many potential subjects and themes, I can't decide where to begin.  There's so much to paint and so little time!
So my question for you, dear readers, is this – what would you like to see in my next Pittsburgh-themed painting?  Is there a particular place in our town that has special meaning for you or simply brings you joy?
Send me your ideas for my next Pittsburgh painting – I would love to hear your suggestions!