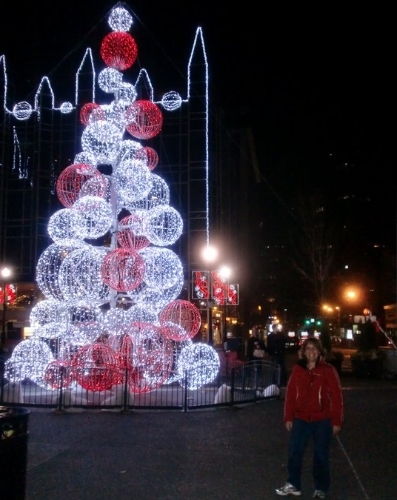 Sorry, but I have to take the blame for this recent cold snap! I admit that I asked Santa to bring some frosty weather and snow to get everyone thinking about the holidays, and he came through for me just in time to launch the season's festivities. Can you believe that Thanksgiving is next week? It won't be long before the jolly old man from the North Pole will be visiting all the girls and boys (except maybe the naughty ones, but I'm sure you're not one of them!).
This is an exciting weekend for me as we kick off the holiday season downtown. Tonight is the soft opening of one of my favorite events of the season, the Holiday Market in Market Square. In fact, by the time you read this, my elves will be helping me set up for the Market's opening. My Chalet will be open for business for the whole holiday season. Visit my Calendar of Events section to learn more.
Then comes Pittsburgh's Light-Up Night! This year instead of being inside PPG staying warm, I will be outside at my Chalet, enjoying the festivities with all of you who brave the cold to come downtown and launch "Sparkle Season."
So zip up your jacket and put on your hat and gloves and come see me at my Chalet in Market Square! If you bring along your gift list, I'll be happy to personalize each one of your holiday purchases with your loved ones' names at no extra cost.
Make sure you are the first to know about all of my holiday appearances and any "special deals" I am offering to my subscribers, by taking the time to sign up for my weekly newsletters now. CLICK HERE to sign up. You will also receive a FREE slideshow showing the step-by-step development of my painting, "Celebrating Time and Tradition at Macy's".