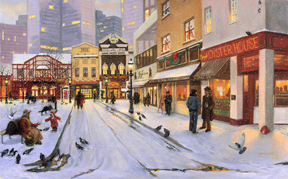 Thanksgiving has always been my favorite holiday. Every year, I take this time to reflect on how thankful I am for the blessings in my life.
It's also my time to give back to you for being there for me. As a special thank-you to my loyal friends and fans, I'm offering a special gift – for this weekend only, everything on my website is 10% off with FREE shipping over $100.00 for art prints and giftware!
This is the perfect time to get started on your holiday shopping with a special gift that will remind your loved ones of happy memories and time spent together… a gift that will last a lifetime! Or why not treat yourself to a holiday-themed print or a beautiful ornament to brighten your home?

Gobble Sale Weekend starts tonight at midnight and lasts through Monday midnight. That's just 5 days to take advantage of this offer – 10% off and FREE shipping for orders over $100!
Don't miss out on my biggest sale of the holiday season! Your savings will automatically appear when you check out between midnight tonight and midnight on Monday, December 1st. No coupon codes to enter! CLICK HERE to begin your shopping.
Happy Thanksgiving to you and your family!
Why not take the time to sign up for my weekly newsletters now. As a subscriber you will receive information about all of my fall and holiday appearances, my latest paintings and special offers only for subscribers! CLICK HERE to sign up. You will also receive a FREE slideshow showing the step-by-step development of my painting, "Celebrating Time and Tradition at Macy's".