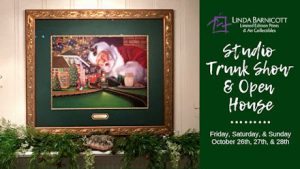 I'm super excited about the special event I'm hosting this weekend – because it's going to be my most unique and unusual event ever!
My very first Studio Trunk Show and Open House will take place right here at my home studio on Friday, Saturday, and Sunday, October 26th through 28th.
Items for sale will include everything from originals, prints, and gifts to one-of-a-kind pieces, including some of my "oddities."
Here are the highlights:
Friday Night, October 26th, is Preview Night. From 7pm – 9pm, attendees will get 20% off everything at the show – Including Originals (I've never done this before!) – except "Super Savers."
Saturday, October 27th is "Incentive Saturday." From 10 am to 3 pm, I'm offering percentage discounts – the more you spend, the greater the savings.
Then on Sunday, October 28th, from 1 pm to 4 pm, I'll be featuring unadvertised "Mystery Specials" that will be a secret right up until the day of the show.
This is a great opportunity to find something unique and special for the people on your Christmas list… or maybe just to treat yourself and buy that painting you've always wanted!
I hope you'll join us for this fun event! Please RSVP by email to Linda@lindabarnicott.com.
Studio Address:  326 Turngate Drive, Bethel Park, PA 15102
P.S. – I also have an important announcement that has been a long time coming.
Tom and I have discussed it for many months, and for various reasons, we have decided it's time for him to change careers. At some point in your life, there comes a time when you have to look at what is in front of you. Though ministry will always be a part of who he is, and he will be listening to God's guidance as he starts this next chapter, Tom will be retiring at the end of January.
Sometimes you just know when you make a decision that it's the right thing to do at the right time. We know this is the best path for us going into the future for a number of reasons, especially with the birth of our new twin granddaughters.
Tom and I will be moving to a new home and studio in Brentwood at that time. I'll fill you in on the details as things develop.