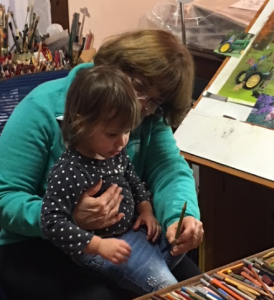 I hope you all had a wonderful holiday!
Though the holidays are my favorite time of year, I still look forward to settling into my normal routines again when January rolls around. As I attempted to get back to my painting yesterday, I had a lovely moment that I'd like to share with you.
Our granddaughter Aria, who is all of 2 years old, was at our house for a few hours yesterday, doing what she usually does – playing, running around, and making a lot of noise. I had slipped away to my studio for a few minutes to get some painting done on a commissioned piece I've been working on, when the door opened, and Tom and Aria came in to see what I was up to.
Aria put both hands on her mouth and exclaimed "Oh my!" and smiled. She climbed up into my lap, and then we proceeded to pick up the pastels. Aria took great pride in telling me what some of the colors were, and Tom captured the moment in a photo.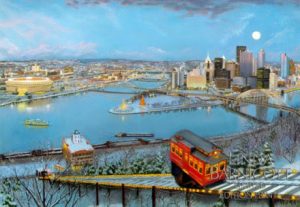 Another special moment happened when a customer stopped this evening to pick up a piece I had framed for her. The frame is about 11 x 14 inches and holds a 5 x 7 image of one of my most popular Pittsburgh paintings, My Hometown  — the iconic view from Mount Washington with the Duquesne Incline.
Just below the painting is a cut-out oval in the matting with a saying that reads:
"You never really leave a place you love. Part of it you take with you, leaving a part of yourself behind." 
I don't know who was responsible for that saying, but I love it, and I've been using it for many years. It's a perfect way to remind someone of home when they leave Pittsburgh.
Then on the back of the painting I wrote about a special memory of Pittsburgh and wished her a happy retirement. I signed the glass for her in gold, the signature shimmering in the light. (You can even clean the glass with glass cleaner and it will never come off!)
If I remember correctly, I've been signing my work with a gold pen like this for about 26 of my 30 years of painting. At the Chalet this holiday season, many customers asked if it would cost extra for me to sign my art. I just smiled and said "Of course not; it's my pleasure."
Would you like to give a special gift in the coming year to someone you care about? Someone who's celebrating a wedding or a birthday? Someone who's retiring or moving away? If so, I hope you'll consider a piece of art that will last forever, a timeless reminder of Pittsburgh memories.
In 2019, I'll be celebrating my 30th year of painting Pittsburgh! If you've given or received a piece of my art in the last 30 years, would you mind sharing a brief story about what it means to you or to the recipient? Even better, send a picture of you and the art piece; with your permission, I'd love to share the stories on my website.
As always, thank you for your constant friendship and support!