This week I exceeded Andy Warhol's predictions – I had a full 30 seconds of fame on KDKA's "Pittsburgh Today Live" with Michelyn Hood!  This is the second year in a row that she's stopped by my booth to see what's new. Mikey loved all the great gift-giving ideas she found in my Chalet. She was especially enthusiastic about my new puzzles and commented on how much fun they would be to put together!
We're off to a fantastic start at the Holiday Market this season. Since the show began last weekend, things have really been hopping!  I think folks are making up for last year by getting out and about to shop for the holidays… and perhaps to buy a few things for themselves. There have also been a lot of out-of-town visitors who are picking up some special memories to take home. It's always such a pleasure to hear their stories and how my work reminds them of happy memories.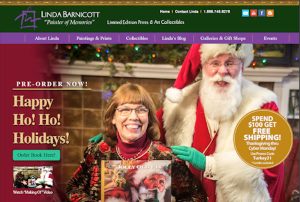 If you can't visit me in Market Square over the holiday weekend, here's a little something to help you celebrate! I'm running a special holiday offer on my website (www.lindabarnicott.com) with FREE SHIPPING for orders over $100.00. To claim your discount, enter the code Turkey21 at checkout. This free shipping offer is good until midnight on Cyber Monday. So if you can't make it down to Market Square in person this weekend, here's your chance to shop from the comfort of your home without paying extra for shipping.
Don't forget – my puzzles, color metal gifts and candles all have limited quantities available, so shop early for the best selection!
From today until Thursday, December 23rd, I'll be downtown every day. This year, Holiday Market hours are:
Monday through Thursday 11 a.m. to 8 p.m.
Friday and Saturday 11 a.m. to 9:30 p.m.
Sunday 11 a.m. to 6 p.m.
Can't wait to see you there! I am so grateful for each and every one of you.