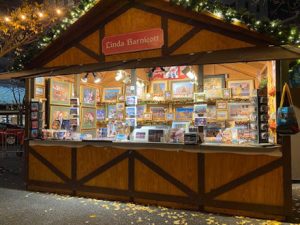 Can you believe it's already December? As I write this, I'm sitting in my Market Square Chalet in downtown Pittsburgh, surrounded by the beautiful sights and sweet sounds of the holidays.
The show is really extraordinary this year. The Square is filled with local folks and their families as well as people visiting from around the country – and even from around the world.  In fact, I met a nice young lady from Russia who is attending college at Indiana University. She asked if I had postcards, and I cheerfully replied, "Why, yes, I do have postcards!" (I couldn't wait to say that!)
We had a delightful chat, and she picked out four of the eight postcards from my new collection. Before she left, she smiled and told me she was going to let everyone she writes to in Russia know that she met the artist who painted these pictures.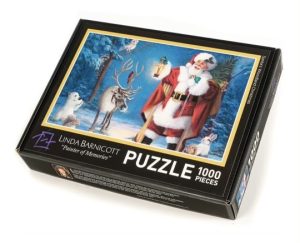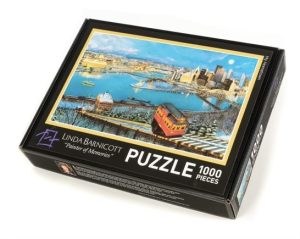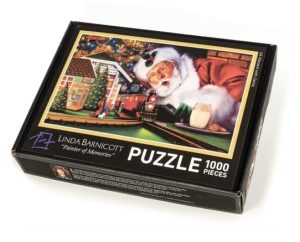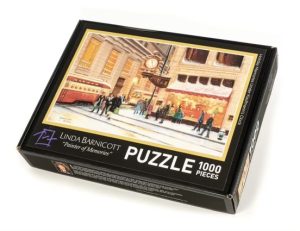 With sales being brisk so far, there are already a few items that are sold out. The puzzles are literally flying off my front shelf, especially "Holiday Memories under Kaufmann's Clock." If you are interested in purchasing any of my four puzzles ($35.00 each), hurry down to the Chalet.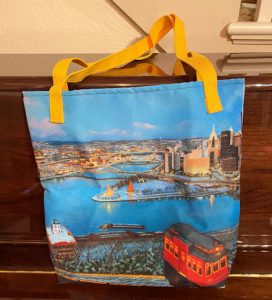 Check out the latest addition to my 2021 product line – Art on Tote Bags! For the time being, they're only available at the Chalet. Right now, I only have ten bags in stock, available on a first-come/first-served basis; however, within the next week or two, they'll be available to purchase on my website.  The bags are made from a really nice fabric, imprinted with the image of "My Hometown" on both sides, and feature bright, colorful gold handles. They're $36.00 and would make a fun gift!
As the holiday season is flying by, I want to make sure you know how much you all mean to me. So many of you have stopped by the Chalet to say hello, and some of you have shopped with me. To those of you order online because you can't make it downtown, I also would like to say 'thank you!' I am truly grateful for all of you. I hope that in some small way, I've made your holiday season a little brighter.