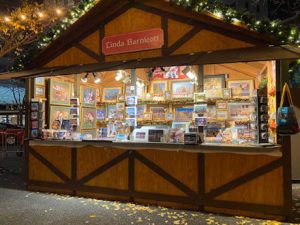 "It's that time of year when the world falls in love/ Every song you sing seems to say, 'Merry Christmas, may your New Years' dreams come true!'"
"The Christmas Waltz" – Frank Sinatra
Don't you just love holiday music?  That song honestly describes just how I feel right now. I think I'm truly at my happiest this time of year – as we say in my family, "all the way down to my heart."
So after weeks of planning, stocking up, and setting up, I think I'm finally ready for this year's Holiday Market.  The Holiday Market has definitely become my favorite show because there's so much to love about it… being immersed in the holiday spirit… meeting many new friends and being reunited with old friends… and of course, hanging with Santa, who collaborated with me in creating my "Jolly Old Elf" series that gave a huge boost to my career.  Besides, all those long days in my little Chalet with family and friends are a great bonding experience – not to mention learning to dress for cold weather and developing resistance to frostbite!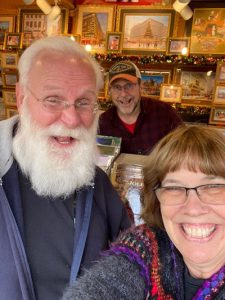 It's all good! No wonder I'm feeling festive already!
The Holiday Market officially opens on Friday (November 19) at 11 a.m., with Light-Up Night on Saturday.
My new puzzles and postcards arrived just in time to kick off the season. Also new for 2021 is a tote bag with my image of the Incline on it.  (More on that next time!)  In addition to lots of new items, I'm also well stocked with fan favorites. And as always, I'll be happy to personalize or sign your gifts of art for you.
My beautifully decorated wooden chalet sits on the corner in Market Square closest to Starbucks. We're surrounded by other chalets featuring wonderful gifts from local makers as well as artisans from around the world. The air will be filled with holiday music and holiday cheer!
Come down to Market Square and enjoy the holidays with me!  As an extra incentive to get you to visit in person, I'm offering a special deal at the Chalet on FRIDAY ONLY – take 12% off anything in my Christmas Shop. This offer is good anytime on Friday… just show me this post to claim your discount.
And for those who can't make it downtown this weekend, I'm having an online sale on my website, www.lindabarnicott.com.  Just enter the code HOLIDAY at checkout anytime from now until midnight on Sunday.
Can't wait to see you at the Chalet!