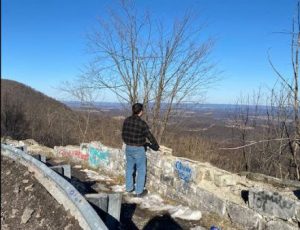 I pray you all have been well this week. As for me, I've had more excitement and adventure in the last week than I have in the past year!
As you may have read in my most recent newsletters, I've been working on my upcoming painting of The Grand View Ship Hotel that was once located in Schellsburg, PA.  This week we took our first road trip in what seems like AGES to collect the some of the resources I needed to develop the painting.
I've always loved this part of a project. It's a little like being a detective, sleuthing about and gathering images and information that will help bring my painting to life.
Last week, I mentioned that I was looking for a specific vintage car. My client told me he had always dreamed of having a gold 1969 Studebaker Avanti. Putting out the word to all my readers paid off big time, because I was blessed with the perfect answer right away. Soon after last week's newsletter went out, a reader got in touch to tell me he knows a guy who has the car we were looking for!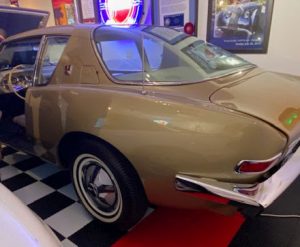 On Saturday, we drove about an hour to the home of Bob's old school teacher, Fred, who just happened to have a gold 1963 Avanti. Wow! It was exactly the car we were looking for! Not only was it in great shape, but it was an award-winning 399- out of 400-point car (I just learned that this was a thing). It was truly a piece of automotive art, refurbished with tender loving care over a period of 14 years.
And not only did Fred have the perfect car, but he also expertly helped identify the make and model of every car that I wanted to paint in the hotel parking lot.
Then on Sunday, Tom and I drove out to the former location of the Ship Hotel – now just a wide place in the road – and pulled off to the side to see the view. We were there in the late afternoon, the perfect time to see the rolling hills, farms, and trees, surrounded by mountains. There were still a few footings down below the cliff where the foundation had been, and someone had placed an American flag on the corner near the road. It was a gorgeous day, so we treated ourselves to a walk in Shawnee State Park (recommended by a few of you in your emails – thanks for the tip!) after our photo shoot.
This week, I heard back from the Lincoln Highway Experience Museum. I asked for their help to try to figure out all the words on the red sign that was on the front of the hotel; when the photos were enlarged, the words became unreadable. Director Lauren actually reached out to Brian Butko, the author of the book that appeared in my email two weeks ago.  Brian, Lauren, the historians, and I put all our heads together, and we think we finally figured them all out.  So that will be something for you to look for when the painting is done.
Next up:  Start painting! Wish me luck!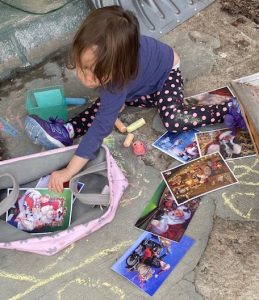 P.S. – My granddaughter Autumn is in love with Santa – but then, what kid isn't? Every day Tom would babysit, she would want to see his phone and would immediately go to my website to see "Ho-Ho-Ho." So yesterday I brought over a set of my Santa cards, and Autumn carried them around with her everywhere.  All you had to do was ask, "Autumn, what does Santa say?" and she would look you straight in the eye and say "Ho-Ho-Ho!"