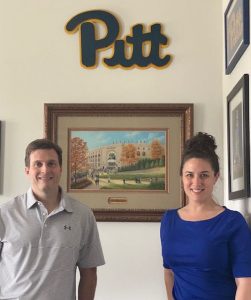 I hope you are all well. With the coming of Daylight Savings Time, Tom and I have been enjoying the extra sunlight, and we love seeing new life emerging in our garden with the change in weather.
But in addition to the seasonal joys of the arrival of Spring, this last week has also brought us a bit of excitement. (I'm sure you're asking "Excitement? What's that?") I was honored to be part of a special surprise for someone… an anniversary surprise to be exact!
It all started in January when I received an email from Michelle, wondering if my painting, "Game Day at Pitt Stadium," might still be available. Both Michelle and her husband Corey have deep roots at Pitt.  They're both Pitt grads who met and started dating while working at Pitt, and they were married at Heinz Chapel. They hope their 2-year old son will continue the family tradition and attend Pitt when he grows up.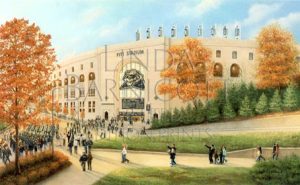 Corey had wanted a print of my painting from the time it first came out, but by the time he got around to purchasing it, he was disappointed to find it was completely sold out. Since then, he had looked for it everywhere, but to no avail.
Michelle, knowing how much he wanted the print, thought it would be a perfect gift to celebrate their 10th anniversary. It was obvious from the moment I met Michelle how much she loves her husband and wanted to fulfill this wish for him.
Michelle came to my home gallery to see the original painting and fell in love with it. I promised her I would take the painting and have the glass switched from regular glass to museum glass.  (Back when the painting was originally framed, museum glass wasn't commonly used.)  She returned the week before their anniversary to purchase the painting and loved how the new glass enhanced its beauty.
After I had shared some stories with Michelle about how I developed "Game Day at Pitt Stadium," she had a special request.  Could she and Corey come back to my studio on the date of their actual anniversary? She thought it would be a wonderful surprise to present him with the painting, and I could share those stories with both of them.
So last Friday at 2 pm, true to her word, Michelle and Corey appeared at my home. He had no clue what was going on and was absolutely surprised! At first, he thought she had found a print but soon was delighted to find out he had been gifted with the original pastel painting.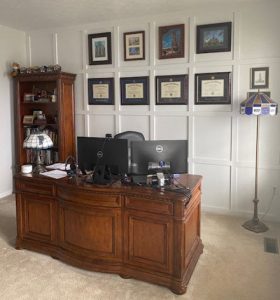 Michelle sent me photos of "Game Day at Pitt Stadium" hanging in their beautiful home and wrote me this thoughtful note…
"The original pastel now hangs in our home office among our other Pitt memorabilia. The detail in the pastel is amazing! The colors are so bright and vibrant. We have such a special connection to Pitt, and this will be a cherished piece for us for many years to come."
There is something very special about owning a piece of original art.  It brings me great joy to know that every painting I have ever sold has gone to a good home.