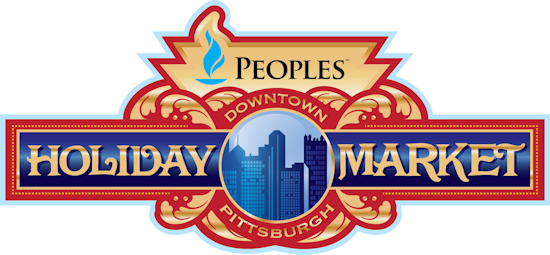 With a jolly Ho-Ho-Ho! Ready or not, it's Showtime in Market Square!
My elves and I have been working nonstop this week. We've had a blast setting up everything and putting together my wooden Alpine Chalet for the 2016 People's Gas Holiday Market in Market Square. We tried some different things this year with my booth near the stage. This year we're trying a brand new look and easier access to my art and gifts. With lots of new paintings and gifts adorning the Chalet, finding your holiday gift purchases will be fun!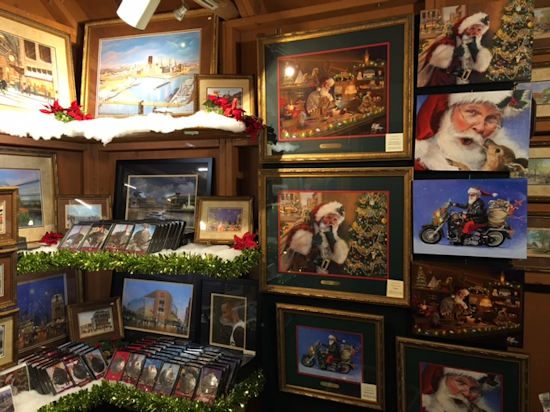 So everything's in place… the Chalet is fully stocked and ready to go for tonight's soft opening from 4 to 8 PM. Then starting with Light-Up Night on Friday (tomorrow, November 18th), we will be open every day until December 23rd with one day off for Thanksgiving.
Every year the Holiday Market gets bigger and better. With live music, good food, tons of activities, and many unique vendors – not to mention Santa holding court in Market Square! – it's the best way I know for Pittsburghers to usher in the season. So stop by my Chalet this weekend and see what's new! I'll be happy to personalize a gift of art for someone you love.
Let's get this party started!
Make sure you are the first to know about all of my news, appearances and any "special deals" I am offering to my subscribers, by taking the time to sign up for my weekly newsletters now. CLICK HERE to sign up. You will also receive a FREE slideshow showing the step-by-step development of my painting, "Celebrating Time and Tradition at Macy's".