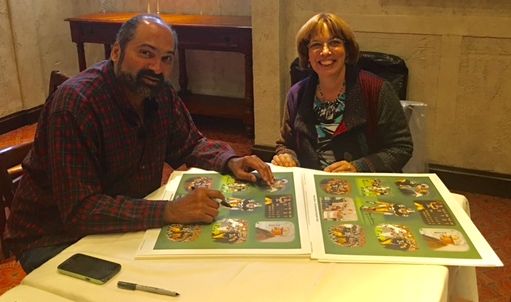 Wow! Another crazy week here in and around my studio. Though it's definitely exhausting, I love the "busy-ness" of this time of year with shows galore and orders pouring in.
And though it seems like we just put away our Halloween décor, next week begins my end-of-the-year marathon at the Peoples Gas Holiday Market in Market Square! In fact, I will be having a soft opening from 4 to 8 p.m. on Thursday, November 17th… then of course I'll be there every day (except Thanksgiving) right up until December 23rd. CLICK HERE to view my Calendar of Events and find out more about this and other upcoming events.
In the meantime, I'm exhibiting at a smaller show this Saturday, November 12th, at the Bethel Presbyterian Church here in Bethel Park. So if you don't like driving into town, this is a very pleasant venue for you to come and see all my new pieces and shop for the holidays!
But the highlight of my week (and maybe even my whole month!) was spending yesterday afternoon with my husband and Franco Harris at Bravo Cucina Italiana in the North Hills.
My supply of signature prints of "Franco Harris – The Immaculate Reception Story" had sold out, so I asked him to sign a bunch of them for me for the upcoming gifting season. Anyway, it was a great excuse to catch up with Franco, who is always more than generous with his time. Tom and I truly adore him.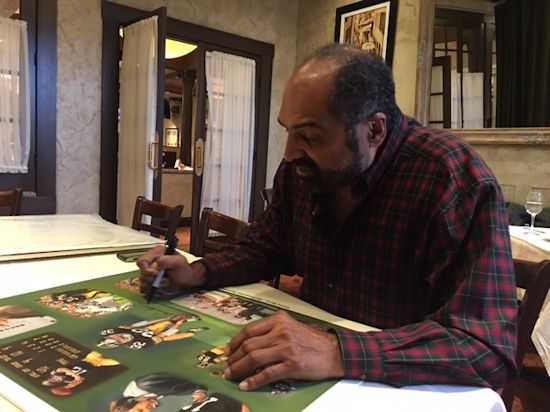 Did I ever tell you about the first time I met Franco?
Now, the first thing you need to know is that I am not a native Pittsburgher, and back in the days of my youth, the only sport I was interested in was sailing. I was definitely not someone who would stay home to watch football or baseball on TV. So when I started that painting I didn't know a lot about football.
As I always do when creating a new painting, I had made a series of pencil sketches to work from, and Franco agreed to meet with me and Tom to go over them. First I showed Franco the pencil work I had done with sketches of Terry Bradshaw, Chuck Noll, Art Rooney, and Frenchy Fuqua. Then finally, I revealed the sketch of himself that would be the center of the painting, catching the football in that legendary moment.
"And here is The Scoop!" I announced. He looked a little confused. "The Scoop?" he asked. "Yes," I said, "The Scoop! You know…" and I pointed out how the sketch showed him making that historic catch. I think it was then that Franco realized I hadn't a clue. He very sweetly put his hand on my arm, looked me right in the eye, and said, "Linda… we call that The Reception." I just laughed while Franco and Tom spent the next five minutes making ice cream scoop jokes.
I have so many fun memories of creating this painting with Franco! If you know someone with a man cave that is in need of décor, or perhaps just a Steelers fan who would love to hang it in their home or office, I hope you'll come by this holiday season and take a look. Or you can check it out online by CLICKING HERE!
Make sure you are the first to know about all of my news, appearances and any "special deals" I am offering to my subscribers, by taking the time to sign up for my weekly newsletters now. CLICK HERE to sign up. You will also receive a FREE slideshow showing the step-by-step development of my painting, "Celebrating Time and Tradition at Macy's".