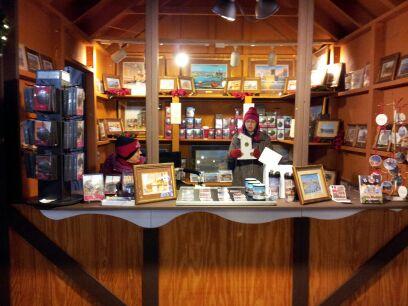 I hope you're having a wonderful Thanksgiving Day, happy and blessed, visiting, entertaining, feasting, or just relaxing with family and friends. But don't forget to rest up for the big shopping weekend to come – Black Friday, Small Business Saturday, and Cyber Monday are all close at hand!
Today I'm enjoying my only day off between Light-Up Night and Christmas Eve, and I'll be back at the Chalet in Market Square, braving the cold tomorrow and every day for the next month. But I'm not complaining… I love being part of the festivities and excitement at the Holiday Market, and I get the VERY BEST visitors!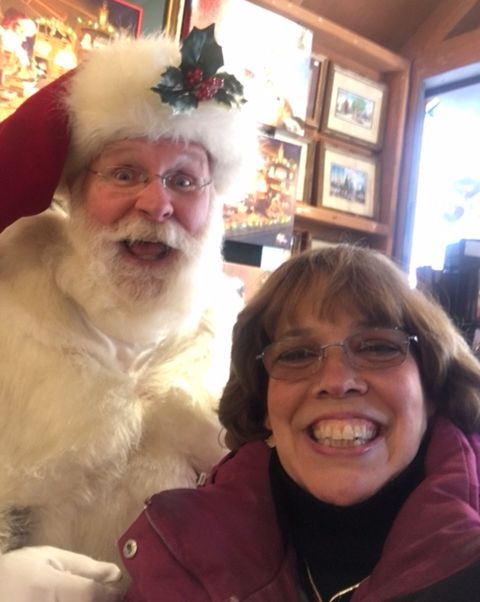 In fact, Santa took time out on Wednesday from his hectic Thanksgiving-Eve duties to hang out for a little while at my Chalet. Santa's enthusiasm is so contagious! His visit really got me into the holiday spirit.
Speaking of getting into the holiday spirit… I have some super duper deals on art and gifts for you this weekend!
I'm celebrating Black Friday, Small Business Saturday, and Cyber Monday all in one big weekend sale to help you "wrap up" your holiday gifting in no time!
For starters, if you come down to see me at the Holiday Market in downtown Pittsburgh's Market Square this weekend, you will get FREE ART!
With any purchase that totals over $100.00, you will receive FREE your choice of one of the following:
~ Box of Notecards
~ Box of Christmas Cards
~ Metal Coaster
~ Metal Mint Tray
~ Ornament
~ And a Partridge in a Pear Tree (just kidding…I'm sold out of partridges)
In other words, you can save an average of 15% to 24% just for coming into town! Limit one offer per customer per day. To claim your special savings, just print out this blog or show it to me on your phone.
Can't make it to the Holiday Market or prefer to order online? I've got you covered. Just for this weekend, I'm offering FREE SHIPPING with any purchase over $100.00. There are lots of savings to take advantage of! CLICK HERE to begin your shopping.
A visit to the Holiday Market this weekend is the perfect way to begin the Christmas season. So enjoy your leftovers, then come on down. Happy Thanksgiving!
P.S. – The sale begins tonight (Thanksgiving Night, November 24th) at midnight and ends at midnight on Cyber Monday (November 28th).
Make sure you are the first to know about all of my news, appearances and any "special deals" I am offering to my subscribers, by taking the time to sign up for my weekly newsletters now. CLICK HERE to sign up. You will also receive a FREE slideshow showing the step-by-step development of my painting, "Celebrating Time and Tradition at Macy's".