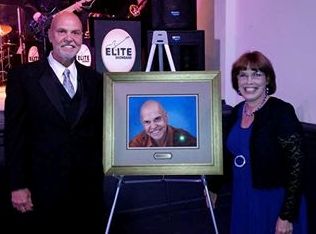 Over the years I have painted over 75 paintings of Pittsburgh and the surrounding area. What you may not know is that before I started painting Pittsburgh, my first love was painting portraits. There's so much to love about being a portraitist. I love the challenge of bringing the subject's personality to life in the painting… the connection with the family… and furry friends are also a lot of fun to paint! I enjoy every step of the process, from the pencil sketches and charcoal to painting with rich, vibrant pastels.
This year, I made the decision to begin accepting portrait commissions once again; in fact, I had the honor of being present at the unveiling of my latest portrait last Friday at the gala dedication of Pittsburgh Musical Theater's newly renovated Gargaro Theater in the West End.
Dr. Ken Gargaro, retiring founder and leader of Pittsburgh Musical Theater, is an amazing man who has been a teacher and mentor to many, many musical theater performers. As PMT dedicated their new facility in his honor, the evening was filled with tributes from theater pros and students alike – performers who learned the craft under Dr. Gargaro's meticulous direction, and people he inspired with his passion for the arts.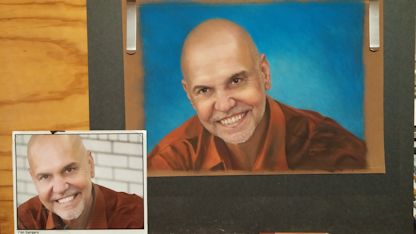 So many from the Pittsburgh (and beyond!) theater community turned out to honor him. And I was thrilled, considering how many theater luminaries were present, to get a small mention in the Pittsburgh Post-Gazette story!
Artist Linda Barnicott, whose portrait of Mr. Gargaro was unveiled at the gala, also was on hand. "Linda said that while she was painting, she kept having a feeling like she wanted to sing. That's what you do for all of us," Ms. Petrucci said, directing her gaze toward Mr. Gargaro. "You make us want to sing."
I truly enjoyed painting this piece – and yes, I did sing my way through it!
Even after all these years of painting amusement parks, cityscapes, and landscapes, I never really left portrait work behind – as I tell people, I've been painting portraits for the last 25 years. There are plenty of portraits in my Pittsburgh and Kennywood paintings… it's just that they're about 2 inches high!
Why not take the time to sign up for my weekly newsletters now. As a subscriber you will receive information about all of my appearances, my latest paintings and special offers only for subscribers! CLICK HERE to sign up. You will also receive a FREE slideshow showing the step-by-step development of my painting, "Celebrating Time and Tradition at Macy's".