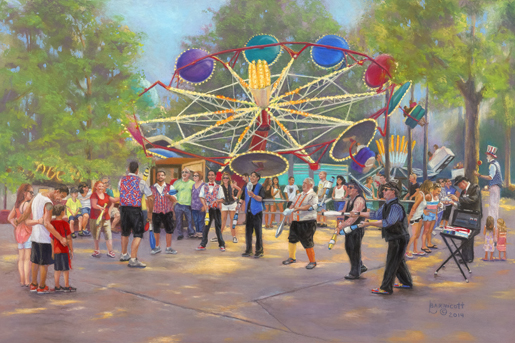 I am loving my new studio here in Bethel Park! Things are finally beginning to settle down, but I do have some big news this week! My newest Kennywood painting, "Show Time by Kennywood's Paratrooper" will debut at Kennywood this weekend at the American Coaster Enthusiasts yearly KennyKon gathering on July 27th.
Because you're one of my loyal friends/fans and a reader of my weekly blog, you will truly be among the first to see the finished painting. Here are some pictures that show how it took shape.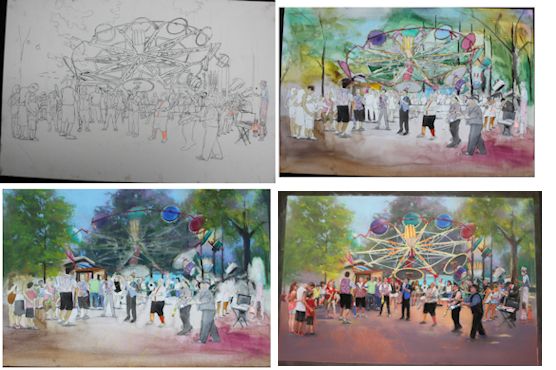 Beginning on Sunday, you will be able order one of the small edition of 125 signed and numbered giclee prints or one of 25 artist-enhanced giclee prints, also signed and numbered, on my website. The regular edition is 12″ x 18″ and sells for $125.00. The artist-enhanced print is 14″x 21″ and sells for $300.00. And in case you're interested in acquiring a work of art that will last a lifetime and beyond, the original painting is available for an investment of $3800.
Every year for the last 18 years during the Grand Victorian Festival (and now Celebrate America), my art booth has been located across from the Paratrooper. It has been a great pleasure for me to have Kennywood's talented entertainers, who come together from around the country during this celebration, put on a show for me right in front of the booth.
So with all that inspiration, this painting is a piece I've wanted to create for years. There's no one I know who doesn't love the feeling of riding the Paratrooper with the wind in your face, trying to reach the trees with your feet as you fly through the sky – that's my favorite part! And in the background, you can see another one of my favorite rides peeking through the trees. The Kangaroo is a perfect family ride for all age… I love that feeling in your stomach as the car drops over the rise… and especially the fun of trying to squish the person who's sitting on the end!
I hope you enjoy my new painting of "Show Time at Kennywood's Paratrooper." I hope it evokes as many happy memories for you as it does for me.
PS – Click here to order your print of "Show Time By Kennywood's Paratrooper," or simply email me at info@lindabarnicott.com or call my new business number, 412-283-4072, or my toll-free line at 888-748-8278 (888-PITT-ART).
Prints will be sold on a first-come basis. It's a very small edition, so don't miss out!!