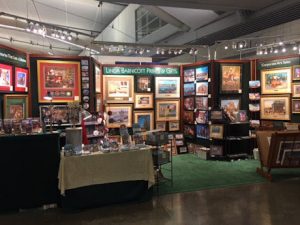 Well, the decision has been made. For the first time in 27 years, I'm going to miss the Pittsburgh Home and Garden Show.
It's still up in the air whether the show will happen at all, and after speaking with John DeSantis (owner of the Home and Garden Show), I decided it would be wiser to sit this year out so as not to endanger family members with medical issues.  Being the kind man that he is, John promised to reserve my same space for next year… at least there's something to get excited about!
It's hard to believe that it was 27 years ago that I set up my first booth in the old Convention Center. It was just a single booth in among the bathtubs and the windows on the second floor of the three-floor show. I was the only artist there and the only art booth on the second floor. There were a few galleries upstairs, but I was warned in advance that it got pretty hot up there, and most people were tired and grumpy by the time they got that far. So I took my chances on the second floor and hoped people would notice me inbetween the plumbing and home improvement booths.
I remember really going out of my way to get people's attention… everything from putting balloons up to get people to look my way, to actually dancing in the aisle. I fell in love with the show that first crazy year, and it definitely boosted my career from that time forward.
Back in those early days, friends from our church would come over about a month before the show to help me send out postcards announcing the show, where I would be located, and what was new for that year. Those great friends would address and stamp, while I would practice my cooking for them and make sure they had a good time helping out.
I have so many fond memories of the Home and Garden Show over the years… even the endless prep work and those frantic move-in and move-out days. I will surely miss all of it this year.
February and early March are usually a super busy time for me, entirely consumed with the Home and Garden Show, but this year it looks like I'll have a lot more free time!  So what I would like to do is to use that time wisely, and I'm thinking about what I can do instead. I've already come up with something… so look for an online offer coming soon to your email inbox!
I look forward to connecting with you soon.  Have a good week!