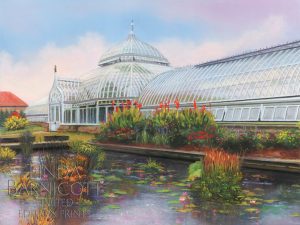 Tonight, I'm focused on taking in the beauty that is all around us – if we just want to see it.
As I write these words, I'm listening to the Inauguration celebration, enjoying the music of very talented artists from all over our great country. Wouldn't you agree that music has a way of touching our hearts and bringing people together?
I have a good feeling, a sense of hope for this new year.  I think if we all come together and follow the science, we will get COVID under control.  Then we'll all be able to go out and enjoy the simple things in life and share all that beauty with the people we love.
Sadly, last week we laid Tom's uncle to rest.  He was a very kind and happy man, and I loved him dearly. Uncle Ron was another victim of the coronavirus; he was the third member of our family to pass from the effects of this dreadful illness.
The loss of another loved one has reminded me to take a look around and appreciate my family, my friends, and my fans.  I am reminded of how eternally grateful I am to have you in my life.  You are my inspiration.
This week – for the first time in two months! – I got back into the studio and started painting again. (It took me almost that long just to clear a path to my easel!)  It seems like every time I spend a lot of time away from my studio, when I do eventually get back to painting, I immediately remember how much I truly love it and how it nourishes my soul.
Right now, I'm working on a private portrait commission. Folks often ask, "Isn't painting people hard?"  Creating scenes of landmarks, buildings, and such is fun, but actually, painting people has always been my passion, and it has always come easily to me.
Last week I asked your ideas for subjects for my paintings in 2021… and boy, did you send me some great suggestions!  From Pittsburgh views I haven't gotten to yet, to holiday themes, to everyday memories of special times in our lives that we all can relate to, your ideas are really inspiring my creative brain – please keep them coming!