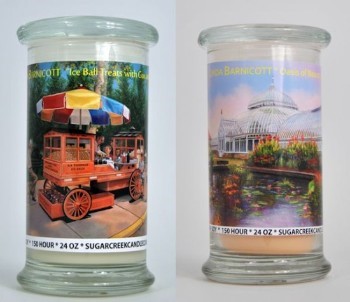 Last night our power went out. In the winter, that can be a little scary because you don't have heat. And you never notice how dark it can get in your home until you don't have electricity. We just take it for granted in our daily lives and don't appreciate it until the lights go out.
When there's a power failure, you have to rethink everything you do. For one thing, I couldn't take our dog Allie out through the garage as we usually do – no power to open the garage door. No electric range and no microwave meant no cooking dinner. The house was slowly getting colder and colder with the furnace off. Even worse, if the power was out all night, I wouldn't be able to style my hair in the morning… and no one wants to see that.
Fortunately, it wasn't too long before the power came back on with no real harm done. But that experience last night made me laugh, remembering how just the day before I found out how much my granddaughter loves my candles.  (Seems like I was the last one to know!)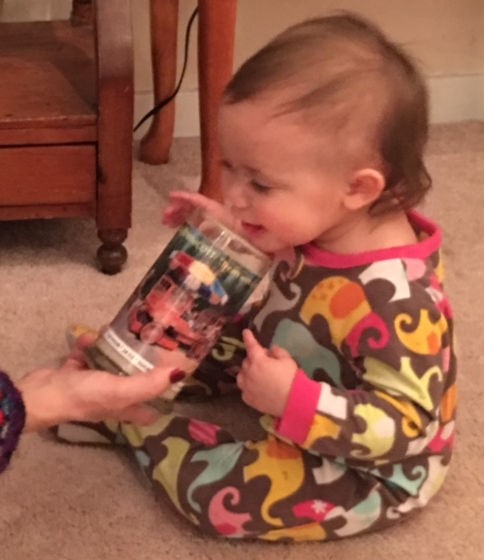 I walked into the living room to find Aria stretching upward, trying to reach one of the candles. I picked it up and brought it down to her level so she could see it. (It was unlit, of course!) She leaned into it and took a huge whiff. One by one, she asked to see and smell each of the candles – it took a while because I have so many candles with different paintings and scents. As we sat there together, Aria looked at each candle, closed her eyes, and smelled the fragrance. She kept saying and signing "more" as we closed up each one. So it looks like I can advertise my candles as Baby Approved!
This last holiday season I sold quite a few candles to my friends at BNI (a business networking meeting I attend every week). Since then, they've been telling me about how they gifted my candles to their loved ones and how well they were received.
It means so much to me to hear those stories, knowing that my work has touched the hearts of their families and friends. If you have any stories of your own to share, I would love to hear them.
Have you noticed that the days are getting longer? The groundhog predicted six more weeks of winter, but we Pittsburghers know better!
In three short weeks, the 2018 Pittsburgh Home and Garden Show opens at theDavid L Lawrence Convention Center.– where Spring comes to Pittsburgh a couple weeks ahead of schedule. You can find me in my customary spot, Booth #3146-8, at the beginning of Artists' Row. The show runs from Friday, March 2nd to Sunday, March 11th.
Candles also make great Valentine's Day gifts! If you'd like to order in time for the 14th, all candles are in stock right now except for Hills and My Hometown. I will, of course, be fully stocked at the show.