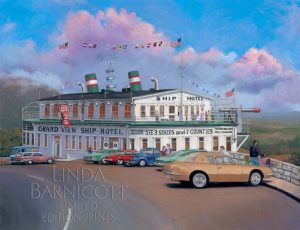 This week I'm officially announcing the release of my new painting, "Lincoln Highway's Historic Ship Hotel."
When I last showed you my progress on the painting, it didn't seem like there was a lot more to do to finish it.  It was pretty much done except for just the road itself… I mean, how hard is to paint some pavement?
Actually, the road is central to the theme of this painting. The Lincoln Highway brought people to this particular spot… from sightseers who had heard about this unique landmark, to motorists who just happened to be driving by and pulled over to get a better look at that amazing view. Part of the road was eventually incorporated into the parking lot of the Grand Ship Hotel. Because it was so important to the hotel, I thought long and hard about how to depict it.
As always, I made adjustments based on trial and error.  At first, it was too light and blended in with the Avanti. Thank heavens pastels are so forgiving! See if you can catch the change towards the end of the video.
(What video, you ask? Well, we tried something new with this painting…)
Each night before I left my studio, I took a photo of how far I had progressed that day. My daughter Brittany (my Social Media Guru) put all the photos together, added some nice piano music for a soundtrack, and created a slideshow video of the making of the painting. You can find it on my website, https://lindabarnicott.com/product/lincoln-highways-historic-ship-hotel/ – just scroll down to the bottom of the page.
Thank you for following me over last two months as I researched, gathered resources, sketched, and painted my way through this piece. I hope you like it, and that it reminds you (or someone dear to you) of good times and happy touring memories of days gone by.
Please share this link with your family and friends. Note that this is a very limited edition of 75 with 10 Artist proofs and 10 Artist-Enhanced prints – the smallest print edition I've ever done. So order yours today!
Again, the link is https://lindabarnicott.com/product/lincoln-highways-historic-ship-hotel/. I hope you'll check out the video of the start-to-finish creation process of "Lincoln Highway's Historic Ship Hotel." I think it's pretty cool!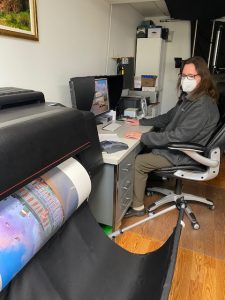 P.S. – Meet Alex – the genius who turns my original pastel paintings into perfect prints! He works really hard to make them the absolute best they can be.