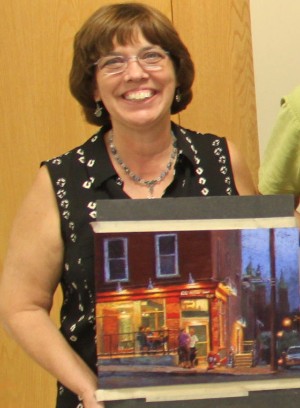 This week has been a time of intense creativity for me. We had the pleasure of hosting a nationally known artist here in Pittsburgh, and I was privileged to attend her workshop. Of course, being "Pittsburgh Proud," we had to show her all the sights. She was suitably impressed and told us "You have a beautiful city!" My head and my heart responded together – "Yes, yes we do! And we are so lucky to live here."
You can google Christine Ivers and check out her work… both are pretty spectacular!
So what did we do with Christine, and what did I learn from it?
First we made our own boards to paint on, applying acrylic gesso with pumice to the board with a paintbrush to make the board archival. Basically, that means it will last for decades upon decades… maybe even centuries!
Then it was time to sit down and sketch and then paint with my soft pastels. My subject was the Lili Coffee Shop in Polish Hill. Because of the texture, I had to use all of my fun thick pastels instead of my tight skinny hard pastels, making the painting very "painterly."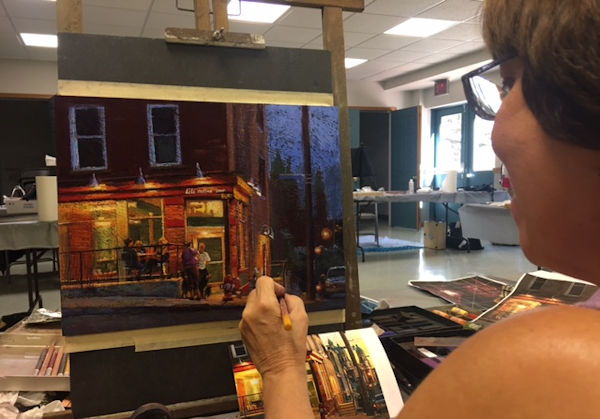 I loved the way the texture showed through the pastel – in fact, I do believe it could be an interesting addition to my paintings in the future. Let me know what you think!
Though I haven't yet figured out how to clone myself, I have figured out a way to be at two shows at the same time this weekend!
Well, not exactly… but my family will be manning my booth at St. Thomas More Church in Bethel Park this Saturday from 9 to 3. Stop by and see them – they'll be happy to help you fulfill all your gift needs. (Don't forget to splurge on yourself, too! You deserve it.)
My actual physical self will be with Santa at the Courtney-Laughlin Gallery in Beaver for the Artist Walk on Saturday from 10 to 4. Of course, there will be photos with Santa all day long (perfect for Christmas cards!) and lots of my new work that I will be happy to sign and personalize for you. After you stop by, be sure to take a stroll down the street and meet the other artists who will be visiting.
The response to my new website has been very gratifying! Thanks again to all of you who have checked out my new updated website www.lindabarnicott.com and have been ordering from there. It warms my heart to see those familiar names coming through on the order forms.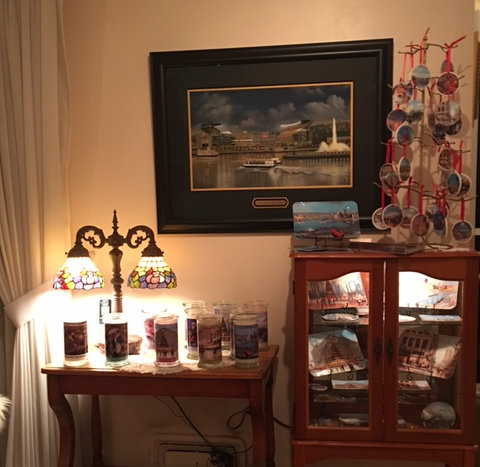 P.S. – October's Original Painting of the Month is "Game Time at Heinz Field" – Perfectly framed to look great in your Man Cave but elegant enough for any room in your home or office. If you are interested in owning this one-of-a-kind collector's piece, please contact me at 412-283-4072