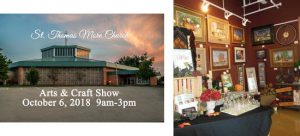 Every week I write an email to reach out to you and give you a glimpse of what is going on with my life, my art, and my dreams. So you know that this 2018 has been a year of great change for our family. With the birth of the twins, my son-in-law beginning a new job, and my oldest daughter starting a new career, we've been through so many transitions.
The Barnicotts are in a very different place than we were last year in a lot of ways. But there's one thing I'm looking forward to, something that I find comforting in light of so much change, and that is the consistency of my fall shows.
Just a week ago, I was at Houlihan's for Perfect Palette, a unique charity event. It was a type of art event that I've never done before, being in a restaurant and meeting and greeting people in a small, intimate setting. So many people came back to visit us in the private room to say hello and enjoy the creations of ten different artists. I met up with many old friends as well!
Then on Saturday, I will be in two places at once! How can that be? 
I will personally be at the Courtney-Laughlin Gallery in Beaver on Saturday from 10- 4, and Santa (yep, that's right!) will be joining me from 11-3. For anyone who would like to learn a little more about my work, I'll be giving a short talk/telling stories at 11, 1, and 3.
Of course, Santa and I will be happy to sign any of my Santa paintings and gifts, and you're welcome to take a free selfie with the Jolly Old Elf himself. The Courtney-Laughlin Gallery is located at 531 3rd St, Beaver, PA 15009.
Because I have such a great "better half" (my amazing husband, Tom), I have the power to be in two places at the same time… so I will also be at the St. Thomas More Art and Craft Fair in Bethel Park from 9 to 3. Tom will have lots of my new art and gift pieces as well as a wide selection of my prints and giftware. The church is located at 126 Fort Couch Road in Bethel Park (15102) across from South Hills Village. If you're in the neighborhood, please stop by and tell him Linda said he's doing a great job!
Hope to see you there!
P.S. – Remember to mark your calendars for my exclusive "Studio Trunk Show and Open House" the weekend of October 26th! More details to follow!
P.P.S. – Just a word to the wise… shop early for the best availability of your favorite pieces.