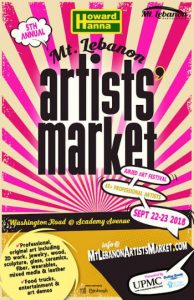 It's that time of year again… Last week's Covered Bridge Festival was the official kick-off of my 2018 show season. My fall schedule is already packed, including two shows coming up in the next week.
First up – this weekend I'll be at the Mt. Lebanon Artists' Market, a wonderful upscale arts festival, on Saturday and Sunday, September 22nd and 23rd. The Artists' Market takes place in the Mt. Lebanon Business District at Washington Rd. and Academy Ave. I may even bring an original or two for sale!
Then on Thursday night (September 27th) from 7 to 9 pm, I will be part of Perfect Palette, a very special charity art show at Houlihan's in the Galleria.
I'll be joining nine other Pittsburgh artists (including Bob Hayes, Vince Ornato, Maria DeSimone Prascak, and more!) for a meet and greet with our artwork available for purchase. It's all for a good cause – the event will benefit the O'Backpack Children's Foundation, an organization that helps abused and neglected children in Allegheny and surrounding counties.
Complementary light snacks will be provided, with glasses of white wine available for $5. Call (412) 379-4811 to reserve your spot.
There are many more places where you can find me this fall! Keep an eye out for each week's email, where I'll announce the shows as they get closer.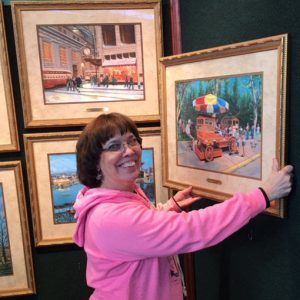 Every year I work hard to finish with new paintings and giftware that will be fun and collectible for my customers, and this year is no exception. I am finishing up these new pieces, and they'll start showing up at the booth this fall… along with many pieces in my inventory you may not have seen yet!
Don't forget – when you see me at shows, I'll be delighted to personally sign each piece for you. On some of the gifts, I can even dedicate it to the recipient!
This time of year is truly my favorite because I can escape from my studio for a little while and hang out with all of you. I hope this year I can help you check off some important gifts from your Holiday List… one person at a time!
One last thing…
I'm planning a new, unique event – a kind of event I've never done before – for the weekend of October 26th through 28th. It will take place right here in my home studio! More details to come… 
In the meantime, will I see you this week? I sure hope so!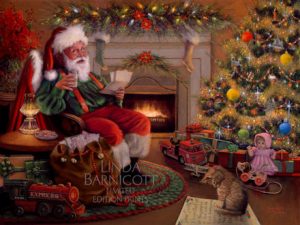 P.S. – "Dear Santa" is now available for sale on my website! https://lindabarnicott.com/product-category/jolly-old-elf-series/