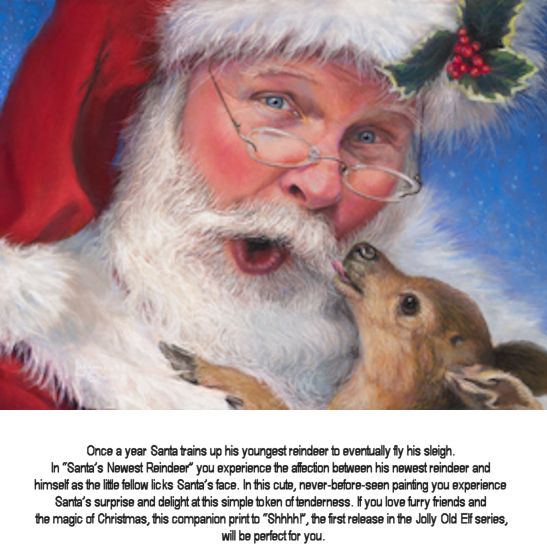 That's right! The Jolly Old Elf – Santa Himself – will be joining me from noon till 3 PM on Saturday, October 17th at the Courtney-Laughlin Frame Studio and Gallery at 531 Third Street in Beaver.
This is a very special event… after all, it's difficult to for Santa to get away from his duties at the North Pole this time of year! Jamie and Kathy have created a Christmas wonderland at the gallery with special holiday perks to welcome Santa and our guests, including live music and refreshments. Click Here to find out more about this event.
There's even a special offer for our guests: If you purchase a print during Santa's visit between noon and 3 PM Saturday (or between now and then), you will receive your very own "Shhhh!" Ornament at no extra cost, signed by Santa himself! (Oh yes, and by me too!) This is a gallery only sale – reserve your print and ornament by calling the gallery at (724) 773-0306. I'll also have other giftware and prints available on Saturday, and even a few originals will be on hand. Kathy and Jamie at the gallery do a beautiful job of framing my paintings.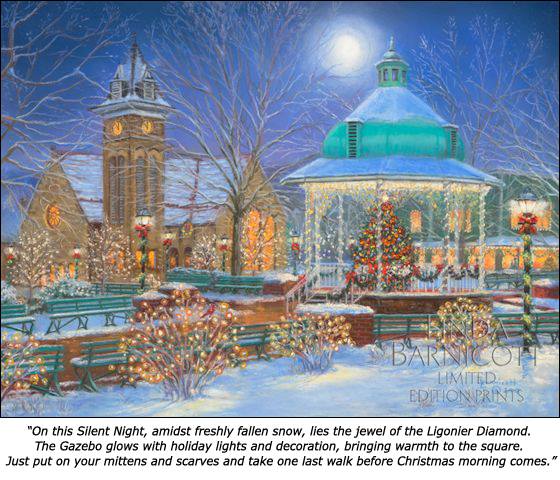 Meanwhile, my latest holiday-themed painting for Breathe Pennsylvania, "Silent Night in Ligonier" is off to a fantastic start. It's getting a ton of attention on Facebook, recording 3500 views and 31 shares in just a short time.
Can I ask you for a small favor? Would you mind visiting my Facebook Business Page to "LIKE" my page and to view, share and like this painting? I'm very proud of it, and I'd like to see how far we can spread the word. I've been thrilled with how much attention it's already received. If you've already visited and clicked, I'm very grateful.
I'm also working on the companion ornament for "Silent Night in Ligonier," which will be available soon. Why not purchase the print and ornament set this year? You'll be supporting a great charity while enhancing your home with a precious memory of the Ligonier Gazebo.
In closing, this morning I heard someone say "Art reaches into the soul and fills a place other gifts cannot. It is emotional and has depth." I hope that my work brings you that kind of joy.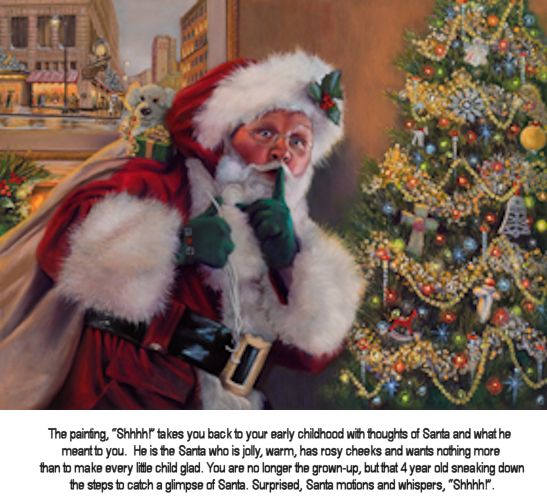 P.S. – Order your "Shhhh!" Christmas Cards today! Quantities are limited.
PPS – Don't forget to visit and "LIKE" by my Facebook Business Page.
Make sure you are the first to know about all of my news, appearances and any "special deals" I am offering to my subscribers, by taking the time to sign up for my weekly newsletters now. CLICK HERE to sign up. You will also receive a FREE slideshow showing the step-by-step development of my painting, "Celebrating Time and Tradition at Macy's".