Can you believe it's already the final weekend of the Pittsburgh Home and Garden Show? It's what we vendors often call "Marathon Weekend." The show is open tonight until 9 pm, Saturday 10-9, and Sunday 10-6. Then it's time to break it all down again!
I would love to see you this weekend at Booth #3146 (at the front end of the 3100 aisle). This year's show has been a real treat for me. My new mugs have been a major hit!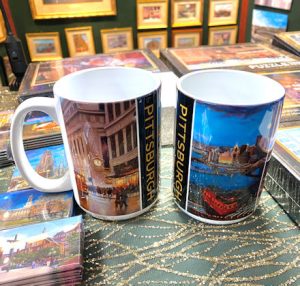 And my ideas for what I'm going to paint this year are definitely coming together. The plan is to return to my favorite subjects – nostalgic places and (as Rick Sebak says) "things that aren't there anymore." Why not stop by my booth and ask me what they might be… or maybe come up with a place I haven't thought of?
And remember — there's still time to take advantage of the in-person special of 25% off selected lithographs! Hope to see you this weekend!