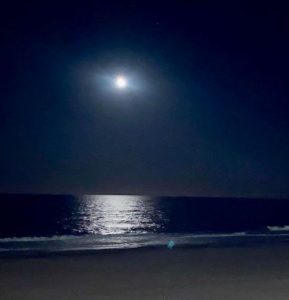 What a week it has been!
Though we were all over the place last week, we still had time for some holiday fun at home, dyeing eggs with our little granddaughters. They're growing up so fast, always curious, and always in motion. They keep us moving, too! We can always count on them to make us laugh. Sometimes they keep us so busy that we end up with sore muscles, especially the ones around our mouths and eyes with all that smiling and squinting! We feel very blessed that they live nearby so we can be very involved in their lives.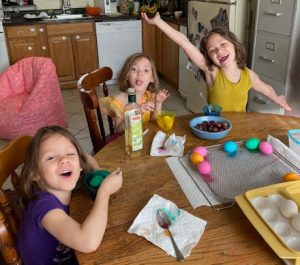 For the first time in forever, Tom and I took a little break for Easter weekend and drove to Ocean City, Maryland. Most of the time, the weather wasn't cooperating – it was windy and really cold. But Easter Day was absolutely perfect, from the moment we woke up, to stargazing that night on Assateague Island with the wild ponies. I always feel close to God when I'm by the water, and this little break really helped my heart and my mind relax, breathe, and just be.
Of course, as soon as we returned home, it was back to the studio. Next week, I hope to be able to show you the finished version of the portrait I shared with you last week. And as soon as that's done, I start painting the old Gimbels Department Store! I'm still looking for reference photos, so if you have any old photos of that building in downtown Pittsburgh, I'd really appreciate it if you would share them with me. (And many thanks to those of you who have shared already!)
Meanwhile, can I ask your advice about my upcoming Gimbels painting? Should the setting be daylight or dusk? Summer or winter? I'm wide open for suggestions this early in the process, and I'd love to hear your thoughts.
Finally, there's something new coming to my website very soon! Here's a glimpse of my new line of art gifts. Those of you who made it to the Pittsburgh Home and Garden Show may have seen and/or purchased the first six coasters in my new "collectibles collection." They will soon be available on my website.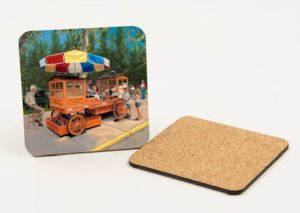 For example, here's my "Ice-Ball Treats with Gus and Yia Yia" painting on a 4" x 4" hardboard sturdy coaster with a nonslip cork back. The colors are rich and vibrant and will stand up to pretty much anything to provide years of use and enjoyment. The great thing about art coasters is that they remind you of happy memories, and they're functional as well! You can start your collection online at www.lindabarnicott.com … coming soon!