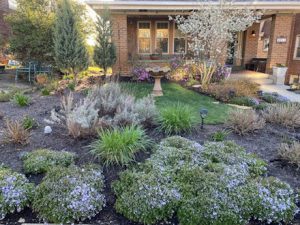 Spring may be busting out all over (especially in my garden), but I'm already thinking about Christmas!
You see, I spent most of first quarter 2023 working on a private commission. But thanks to our spontaneous trip to London and Paris, the Pittsburgh Home and Garden Show, and out-of-town guests, I have yet to put the finishing touches on this double portrait of two lovely children in their grandparents' home, enjoying the family's model trains.  I was thrilled tonight when I called my client to ask if I could share this painting with you, and he said "Yes!"
Early in January, when I arrived at their home for the photo shoot, I was greeted by whole family – the grandparents, parents, and adorable grandchildren. I was a little nervous about it because my good camera wasn't functional, and I knew I would have to use my cell phone. I also wasn't sure how the young ones would react to a stranger with a phone in her hand, crawling around on her hands and knees in their grandparents' home.
In the end, I didn't need to use any of that energy worrying. As a matter of fact, we had a delightful time! They made me feel like part of the family. The little boy wasn't quite old enough to fully understand what we were trying to do, so we just let him be himself. After a while, he sat down on the fireplace seat. As if on cue, his big sister sat next to him, and I got a nice series of photos of them interacting. He really loves trains, and once we added a train to the scene, it all flowed naturally from there. Big Sister is holding her favorite ornament in one hand while showing her brother the train on her lap.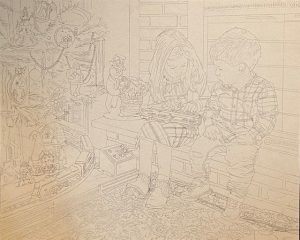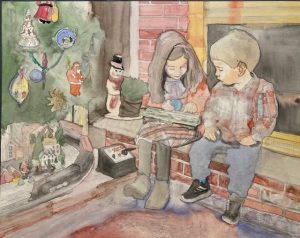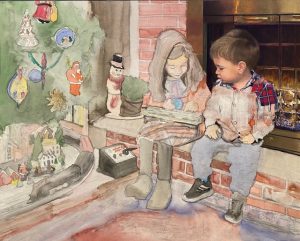 Basic photos of the children looking at the camera and smiling would have made a beautiful picture, but to me, the pose we decided on made this more than just a standard portrait. I told them that I'll give them all the photos I took that day, but this is the one that will make a great painting and a precious memory for years to come.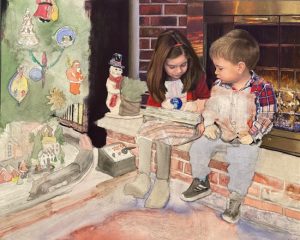 I asked each person about their favorite ornaments, and each in turn showed me the one they love best, reliving their memories of Christmas Past with love reflected in their eyes. As I planned out the painting, I put them near the tree. I placed the train on the platform just so – not too far back and not too far forward. Later, I asked the grandfather if I could take a more detailed photo of the locomotive that his granddaughter was holding so I could add detail. The rug at the bottom of the painting… well, that might do me in! We will see.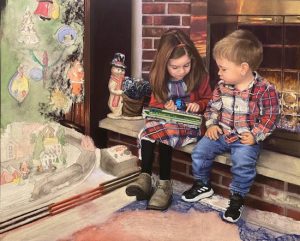 I'm actually a lot farther along than you see here. So why can't I show you where the painting stands now? There's a good reason. As I paint a commission, I typically take photos all along the way and text them over to the client as part of the experience. The client has already seen all the photos up to this point. They have loved and approved each update, and I'm confident they're going to love the finished piece. It will give me something to unveil… and anyway, I kind of want to surprise them a bit at the end!
So obviously, I can only share with you what I have already shared with them. I promise I'll show you the rest of the painting here when it's finished!
In other news, now that Tom's retired from the ministry, and Easter's no longer his busy season, we decided to hop (Easter Bunny joke!) in the car last weekend to find out what Easter is like in Ocean City, Maryland. This was actually our very first Easter together that wasn't spent in Pittsburgh. It felt like we were cutting class and playing hooky!
Being an ocean girl born and raised (in fact, I think I might have salt water in my veins), I can't believe I've never been to Ocean City! We had a great time. I hope you all had a wonderful Easter!