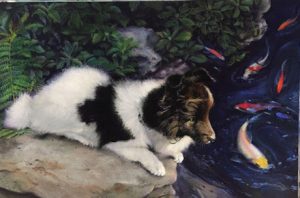 Thank you all who listened to my interview last week and offered insights and comments about it.  I really enjoyed all of your responses (especially your own stories) and hope you'll share the interview with your family, friends and colleagues.
Last week, I also showed you some photos of our "blank canvas" front yard.  On Tuesday, we "painted" it by planting dozens of trees, bushes and flowers.  It was a true labor of love but still really hard work – several days later, Tom and I both still have sore muscles!
We also added a birdbath that was stained a pretty golden brown and laid down some really big, heavy stepping stones that added a nice touch to the landscape.  All that's left is to put down our mulch and seed the patch of grass at the center of the yard, and it will be finished!
My favorite part (besides, of course, working alongside Tom to make our yard beautiful) was the encouragement we got from so many people who passed by over the last two weeks, cheering us on while we were working and telling us that they've enjoyed watching our progress.

I've mentioned before how landscaping our yard reminds me of creating a pastel painting.  It starts with a drawing, creating a pleasing composition, acquiring all the components needed to paint, and then once all the details are ironed out, applying the pastels. Then in the end, I will look it over, make a few adjustments, and finish up with a few added extras.
* * *
However, I didn't spend my entire week gardening (though it sure felt like it!) – I also finished up a delightful commission.  Whenever I'm creating a painting, I feel it's important to learn as much as I can from my client about the subject, whether it's a building, a person… or in this case, a dog! Yes, the commission was a portrait of a sweet little Sheltie named 
Jasper
.
When Jasper was a puppy, he was a cute little fluffball who was intrigued by all the activity in the family's backyard pond. You see, the pond was full of Koi, and Jasper just couldn't get enough of watching those colorful fish.  Perching on the rocks overlooking the water, he intently tracked them as they swam to and fro.  Eventually, he couldn't resist the temptation any longer and took a flying leap into the pond. This would be the first of many times Jasper decided to cool off and frolic with the fish.
Painting Jasper was challenging, as I needed to draw his head from one photo and put it onto his body from another photo. I also rearranged the positions of the Koi swimming in the pond, making sure to get their best sides! The 12″ x 16″ painting was finally completed by tweaking the placement of the rocks and greenery and the application of color to make the elements really pop.
Here is Jasper's journey from sketch to finished portrait!

Why do I paint commission pieces, which can be some of the hardest subjects to capture? Because for me, my art has always been about bringing happiness to others.  If I can create a painting that brings you great joy to hang on your walls, or if I can use my pastels to capture a special moment in time and tell that story, then I've done my job well.
In a way, original pastel paintings have a life of their own. They are unique statements that stand out on your walls and make your home feel extra special.  And these pure pigments on museum board, when framed correctly, will last for centuries. Pastel paintings will not darken or crack like many oil paintings do.  They're timeless keepsakes to hand down through the generations.
As we're spending so much time at home these days, we have more opportunity to reflect on good times and special people (or pets!) who have made our lives richer.  Perhaps a unique, one-of-a-kind painting would be a wonderful addition to your family home.
Have a great week and stay healthy.