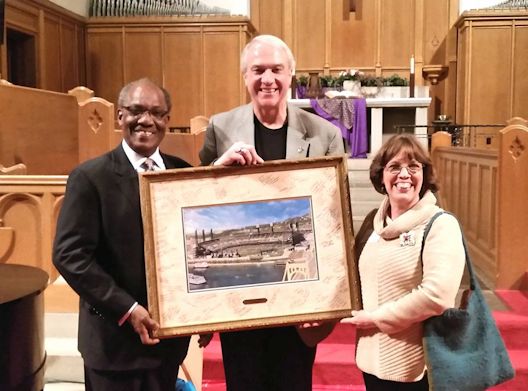 Ever feel like there aren't enough hours in the day? It's been a busy week, and it's about to get even busier!
Recently, Tom and I attended an event for United Methodist Bishop, Tom Bickerton, to wish him well as he moves on to his next adventure. The Bishop is a huge baseball fan, and I was truly humbled and honored when my painting, "Let's Go Bucs at PNC Park," was chosen as his farewell gift!
Not only that, but the Home and Garden show is only two weeks from today! It's all hands on deck at the Barnicott household! Even my framer is working overtime, framing a third batch of prints to make sure I'll have hundreds of newly matted and framed pieces in stock for the show. Visit my website's "Calender of Events" to find out more about the show.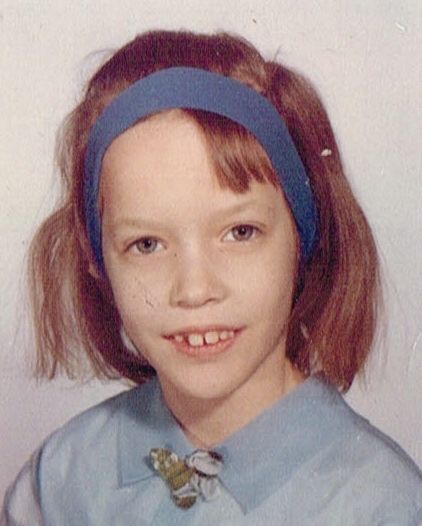 In the meantime, you may be wondering "Who is this shy little girl with the badly cracked lips who is obviously having a bad hair day?" It shouldn't be too hard to figure out!
Here's the story of how that picture inspired me to write this blog:
When my dear cousin moved to Georgia this year, she discovered many wonderful photos of our family when we were young, and she passed them along to me.
As a matter of fact, she also included a newspaper article from 1994 about my father and brother and their old construction business in New Jersey. I had tears in my eyes as I read my late father's precious words about the pride he took in his work. He always worked hard and cared deeply about each job, helping out the homeowner as best he could. He had a strong work ethic, and I try to live up to it myself to honor his memory.
As I was sorting through the contents of an envelope my cousin had sent me, my childhood photo fell out, and I saw it for the first time in many years. I reluctantly showed it to Tom, who knew by my tone of voice that it wasn't a picture I was particularly proud of. It was definitely not my best day!
So why did I choose to share it with you today rather than just hide it away in a photo album? Because it reminded me of the #1 question I'm asked when I meet someone for the first time: "How old were you when you started drawing and painting?"
I tell them that my very first memory of drawing was my first day of second grade (about the time the picture was taken). My new teacher was so beautiful! I had a burning desire to show my mom what she looked like, so I reached down alongside my new desk and picked up my little 2-1/2″ x 4″ red-covered notebook with lined paper in it. I drew her the best I could, trying to convey how elegant she looked with her high cheekbones and beautiful eyes.
Looking back on it, with my ability to focus in on those small details – hair, cheekbones, eye color, etc. – I should have known from that moment on that it was my destiny to be an artist!
Thank you for tolerating my second-grade picture and my walk down Memory Lane…
Make sure you are the first to know about all of my news, appearances and any "special deals" I am offering to my subscribers, by taking the time to sign up for my weekly newsletters now. CLICK HERE to sign up. You will also receive a FREE slideshow showing the step-by-step development of my painting, "Celebrating Time and Tradition at Macy's".