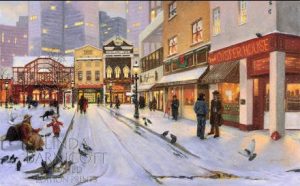 The other night, Tom and I decided to take a drive, and somehow we ended up in Market Square.  Normally it would be bustling with people and cars, but last night it was a ghost town – quite different from what I'm used to from the winter Holiday Markets and summer Night Markets.  The quiet and stillness reminded me of one of my earlier works, "Sharing the Season At Market Square," and I thought you might enjoy hearing the story behind that painting…
If you have ever yearned for a huge fish sandwich, clam chowder or crab cakes, you may have headed straight for one of Pittsburgh's most historic restaurants – The Original Oyster House in Market Square, which has been satisfying hungry Pittsburghers since 1870.  I wanted the Oyster House to be the focal point of my new Market Square painting, which was going to be the fourth of five in my "Pittsburgh Remembered." Not only is Market Square a very quaint little block in the center of downtown Pittsburgh, but its eclectic restaurants and historic buildings are surrounded by huge, modern skyscrapers.  As I looked over the architectural contrasts from a bench in the Square in 1991, I knew I just had to capture this remarkable scene on canvas.
Another popular business in Market Square is just down the street from the Oyster House in the 1902 Building, home of the Nicholas Coffee and Tea Company.  They stock an amazing selection of aromatic teas and coffees as well as old fashioned candies and other treats.
Of course, I wanted to highlight the most unique buildings of Market Square, like the 1902 Building and a few others.  Unfortunately, their locations were not necessarily convenient for my composition!  When I took my photographs, I realized those beautiful buildings were just too far away.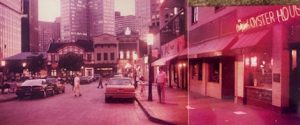 I asked myself, "How can I make it a better painting?" And this is where what we call "artistic license" comes in!  Because in art it's okay to break the rules whenever you want, you can play around with the composition to create exactly what you want to portray.  In fact, I did some serious remodeling of Market Square, erasing an entire city block to bring these distant buildings forward so the viewer could get a better look at them.
That also meant I had to discard a few buildings as well, one of which was a nondescript beige cement-block storefront. It added nothing to the painting, so out it went!  I mean, who would notice, right?  Turns out the only person who really missed it was the owner of the building, who laughingly said, "I would have bought a print if my building was in it." So I lost one sale, but it was a sacrifice that was needed to make the painting the best it could be!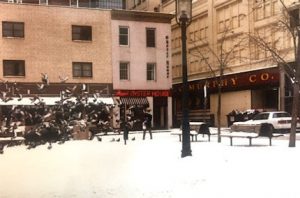 Next, I had to decide what season it would be in my painting.  I ended up choosing to show the Square, like the other paintings in the series, in a winter motif.  Next, I had to wait patiently for a snowy Sunday morning in Pittsburgh. (It had to be Sunday because I needed fresh snow and none of the usual foot traffic.)  Finally, the perfect winter Sunday morning came along.  Then as I entered the Square, I saw a woman feeding bread to pigeons… and not just a few pigeons, but what seemed like hundreds! I started snapping photographs as fast as I could as the birds flew all around her.
This gave me an idea…
As soon as I arrived home after my photo shoot, I immediately fired up the VCR and watched Disney's Mary Poppins.  I fast-forwarded to the poignant scene of the old woman sitting on the cathedral steps selling breadcrumbs to feed the birds, and I quickly sketched her.
Because I wanted to get her anatomy just right, I asked a woman from our church to model for me, which she did while sitting in my dining room. Her husband also modeled, standing by the entrance to the Oyster House, deep in conversation with Tom.  My little daughter Brittany, who was just four years old at the time, also wanted to be in the painting, so I added her as the lady's bird-feeding assistant.
One other important element that I added later was the Salvation Army bell ringer, standing
on the sidewalk collecting donations in his trademark red kettle. I wanted to symbolize the importance of giving to those who are struggling, especially at that time of year.
Market Square has certainly changed a lot since over the years, and I like to think that my early work has helped preserve our memories of the way Pittsburgh used to be… even with a little artistic license!
"Sharing the Season at Market Square" is now available as a giclee print (the original limited edition lithographs are sold out) on my website.