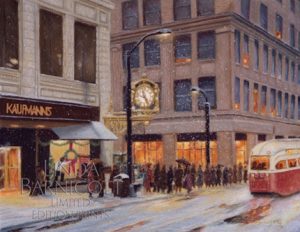 Here we are, another week into social distancing. It's a good thing I have so many stories!
This week I want to tell you the story behind the very first painting in my Pittsburgh Remembered series, "Meet Me Under Kaufmann's Clock."  It was the start of my career as a Pittsburgh artist.
In 1989, the nice people of Kustom Korners Gallery in Village Square Mall allowed me to set up my tables and pastel chalks out in front of their gallery and paint portraits. Not just "quickies," mind you, but rich, detailed portraits.  I wanted to show more than just a face – I wanted to capture that person's essence, their spirit.
One day the owners asked if I would consider painting a Pittsburgh streetcar scene.  I was intrigued by this new challenge and readily agreed.  The plan was that if it wasn't good enough to become a print, they would still put it in their front window and sell the original.
There was just one thing… I had never in my life painted a building, a street, or a streetcar. I didn't have the slightest idea how to paint what I had just agreed to paint.  Lucky for me, I lived next door to an astonishingly talented graphic designer named Gary.  Now, Gary was one of those people who could make you believe anything is possible. He was funny and had an infectious laugh that made me smile from ear to ear. He offered to teach me perspective, which is vital to properly capture a city scene – and quite different from the techniques I used in my portraits.  Many hours (and many tears of frustration on my part!) were spent with Gary explaining perspective to me again and again, until I finally understood how to draw a building without it looking as if it were leaning or about to fall over.
What would be the perfect setting for this new experiment?  It didn't take me long to decide on the corner of Fifth and Smithfield in downtown Pittsburgh – the corner where Kaufmann's Department Store stood with its beautiful landmark clock proudly overlooking the busy intersection. I may not have been raised in Pittsburgh, but I understood how meeting under Kaufmann's clock was a tradition for generations of Pittsburghers. Meeting under Kaufmann's Clock was how everyone knew exactly where to find each other before the days of cell phones and texting.
The day I traveled into town to take my reference photographs, it was cold and wet. I remember checking out every vantage point, trying to find just the right angle.  Of course, the clock would be the centerpiece of the painting, but I also wanted to include the Kaufmann's sign and architecture and the Fifth and Smithfield intersection itself.  At just the right moment, I snapped a photo of an old truck that had stopped at the light, which made a great addition to the composition. I also included an old fashioned streetcar (as requested by my publisher) with its lights aglow.
Inspired by the romantic greeting cards my husband sent me when we were dating, I wanted to include a young couple meeting under the clock.  My publisher suggested I add a person decorating the store window, and so I came up with the plan for Tom to pose for me in my studio, pretending to hang a wreath in the holiday display. I didn't know it then, but like "Waldo," "Where's Tom?" ended up becoming one of my trademarks… People began to search for his hidden figure somewhere in each new painting.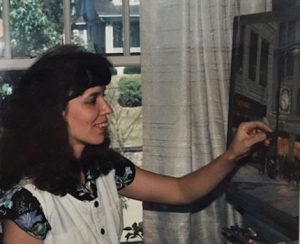 As I began to paint, I was inspired by a Texas artist named G. Harvey.  He had a way of creating city scenes that were more than just buildings, filled with nostalgia, emotion, and the energy of people's lives.  From Mr. Harvey, I learned to be courageous and paint with feeling.  As I continued to develop my composition, I followed his example and planned my painting to capture a moment at twilight, when the city lights began to glow, and even frosty winter streets would reflect their warmth.
When I finished the piece, I brought it next door to show Gary.  I told him I was going to call it "The Meeting Place," since that's where everyone meets.  He shook his head and said that the title didn't do anything for the painting. "But Gary," I countered, "everyone says, 'Meet Me Under Kaufmann's Clock!'" "So why don't you call it that?" he said.
I thought it was an awfully long title, but I went with it anyway.  It turned out to be the right decision – I'll bet that title sold just as many prints as the painting itself did!  At that time, the Pittsburgh Press had customers from all over the country, missing their hometown, who received the paper by mail, so my publisher ran an ad in the Sunday Press with a small black and white photo of the painting.  Frankly, the ad was awful – you could hardly make out the photo at all – but the title above it read "Meet Me Under Kaufmann's Clock" in big black letters. We soon began receiving an amazing number of orders from displaced Pittsburghers from all over the country, just from that one ad!
"Meet Me Under Kaufmann's Clock" was my first limited-edition print, and I signed each one in order as they were sold.  It seemed like every day the gallery would call and ask me to come by and sign more. On one occasion, I walked into the gallery to find a long line of customers waiting – each one holding a print! The framers in the back of the store playfully teased me that they were sick and tired of framing my print.
I was shocked! After all, it had only been a few months since I dropped off the original with the printer in Ohio, when I was a nervous wreck that the color on the print may not match the original. It was my first experience with a printer. Tom and I had driven 5 hours to get there, and it took what seemed like forever to try to get the print colors as close to the original painting as possible.
I remember calling my sister that night and confessing my fears about the print, how hard it was to color-match, and so on. To my surprise, she had just one request – that she wanted the #2 print in every edition from now on.  I asked, "How do you know there's going to be a second painting?" She had more confidence in me than I did! Now, after all these years, she has the complete catalog of my art career, and I finally got some confidence!
Looking back at my first artist signing, Kustom Korners was nice enough to create a big event around it.  I was delighted to see that they had put my name up on the new electronic marquee outside of Northway Mall on McKnight Road.  I pointed out to Tom, "Look, my name is up in lights!" Tom's dad used to say that I finally made the Barnicott name famous.
As I was sitting in the front of the gallery signing prints, a very tall man approached me, dressed in a business suit and beige trench coat.  With tears in his eyes, he explained that he needed to buy the painting because it reminded him of his mother, who had passed away.  "When I was a boy," he said with a smile, "I felt so grown up when finally she told me I could run around town on my own, as long as I met her back under Kaufmann's Clock at 1:00."
His story really touched my heart, and by the time I returned home, I realized something… my portraits are created to make one family happy, but with hometown memories, one painting can bring happiness to many people. As I told Tom, "Painting Pittsburgh is like painting a portrait for the whole city, not just one family at a time."
So until next week… stay home, stay healthy, stay positive!