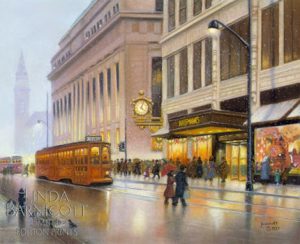 Today I want to share with you a special story about one of my paintings, a story that I've never told publicly before. One that's been pretty much a secret until now.
I feel compelled to tell this story because this week we lost my father-in-law, and he is one of the central characters in it.
In 1992, I had finally finished my "Pittsburgh Remembered" series.  For years, I had been getting calls to purchase prints of my first painting in the series, "Meet Me Under Kaufmann's Clock," though it had long been sold out. I remember going to see Jesse Hager, a master of the art of watercolor and a well-known Pittsburgh artist, to ask him what I should do. "Linda," he said, "you can paint the same scene at least 6 different ways, all from different angles."
That was exactly the inspiration I needed. I went downtown for a new photo shoot around Kaufmann's Clock, looking for a new angle on one of Downtown's most recognizable and beloved landmarks. Soon it became clear to me how I should compose the painting: I wanted to showcase the Smithfield United Church (now Smithfield United Church of Christ) in the background.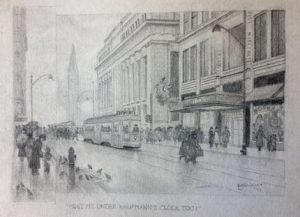 Now comes the part of the story that I haven't shared with many people, as it isn't a happy one. In fact, it was a real tragedy for our family.
One morning back in 1991, I was in the kitchen feeding my daughter, Alyssa, when the phone rang. "Hello!" My mother-in-law's cheery voice always had a way of making me smile. "I know what you can get me for my Christmas present this year. You can pick the color matting for your paintings because you're really good at that!"  Mum had been collecting my prints as note cards, and she wanted to frame them.  She had always been my biggest fan.
Later that day, Tom was paying a pastoral visit at Divine Providence Hospital, and as he was leaving the building, he noticed the Life Flight helicopter taking off.  He said to himself, as he often did, "Someone's having a bad day." He had no idea, of course, that the helicopter was on its way to the scene of a terrible automobile accident involving his parents.
In the end, my father-in-law survived, but unfortunately, Mum did not. Tom's dad spent a total of 90 days in the hospital, and from his window in the AGH Continuing Care Center, he could see that church, the Smithfield United Church, and it gave him the hope and inspiration he needed to recover.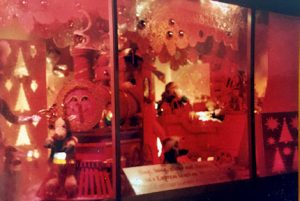 As I began planning out and painting this piece, I created a mist in the space between what used to be the Mellon Bank building and the church so as to make the church stand out more.  I incorporated into the painting a train-themed window display from Kaufmann's Department Store, created from photos I had taken earlier that year. Then, looking in at the display window, I placed a woman in a scarf … a familiar figure to our family.  Of course, it was my mother-in-law, Jean. Next to her in the composition, I placed a little boy (my husband, Tom), and a little girl (his sister, Terri).  I placed Dad nearby as if he were standing behind the light post (Dad never wanted to be the center of attention!).  "Meet Me Under Kaufmann's Clock, Too" was my way of honoring the memory of a great lady.
I'm grateful that I'm able to share this very personal story with you.  There are many other stories about this painting (like, for example, how I managed to paint the streetcar going the wrong way!), but for today, this is enough.
Best to you always… and stay healthy!