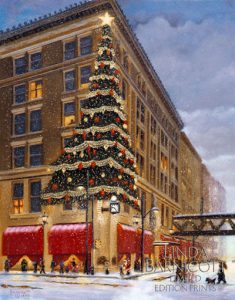 Being at home 24/7 does have an upside… I now have time to garden, cook (I'm definitely improving, just ask my husband!), paint with my friend in California via Zoom, and get my stories written down.  Today's story is about "Wishing Under the Horne's Tree," the last painting in my Pittsburgh Remembered series.
As I've mentioned before, when Tom and I first started dating back in the late 1970s, ours was a long-distance romance – I lived in New Jersey and Tom was from Bethel Park.  We were only able to be together about once a month, so every minute was precious.  As we grew closer and eventually fell in love, we made it a point on our visits to take each other to the most amazing and unique places in our hometowns.
So when I visited Tom during the holiday season in 1977, he wanted to show me how Pittsburgh celebrates the holidays. One thing he knew I would love was the KDKA Children's Hospital broadcasts from the windows of the "Big Three" department stores – Gimbels, Kaufmann's and Horne's – where broadcasters like Jack Bogut and Art Pallan would greet long lines of visitors who were making donations to Children's Hospital of Pittsbugh.  For their generosity, they would receive a special treat – always something to do with "Farkleberries!" One year, it was a Farkleberry Tart, another year it was Farkleberry Brew, and then another year they served Farkleberry Snickerdoodles!  What's a Farkleberry?  Who knows? But whatever they are, they're really good!
During my first visit to Pittsburgh in December, we strolled hand in hand, taking in Kaufmann's whimsical animated windows, then headed over to Joseph Horne's Department Store at the corner of Penn Avenue and Stanwix Street. In particular, we wanted to visit the Santa Shop on the 9th floor.  We exited the elevator, walking through shimmering holiday decorations of gold, silver, red, and green on our way to see the Jolly Old Elf himself.
At one point, I was standing near a beautiful Christmas tree, and suddenly I realized it was talking to me! I stood there with my mouth hanging open as it complimented me on my outfit, describing it in great detail.  Obviously, this was no ordinary tree!  How did this happen?  A holiday miracle, perhaps?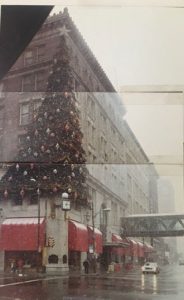 Fast forward to 1990… I was planning the third painting in my "Pittsburgh Remembered" series, and I knew from the start that it had to be "Wishing Under the Horne's Tree." In my mind, I returned to that magical day in 1977 when I first saw and fell in love with Horne's Department Store, especially that massive, sparkling outdoor tree soaring up the side of the building, a symbol of joy and hope.  I was determined to do my best to capture that feeling on canvas.
It just so happened that when it came time to pose people for the painting, my best friends from New Jersey, Kathy, Ron, and their young children, Dawn and Scott, were visiting.  I put them to work as models (along with my daughter, Brittany), asking them to pretend they were gazing into dazzling holiday store windows as I quickly snapped some photos.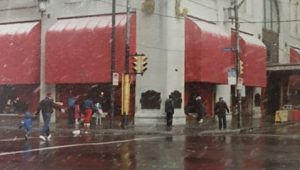 At the time I was planning the composition of this painting, I was at a local gallery signing prints of "Walking in the Light of the Cathedral."  I was a bit surprised when a number of customers asked where I was going to put my husband in my next painting.  I didn't realize so many folks had noticed that I had been using Tom as a model.
So when I returned home that night, I told Tom, "It seems they're expecting you to be in all of my paintings!" He actually loved the idea of making more "Alfred Hitchcock" type cameos, and once again, he put on his raincoat and hat and posed for me, leaning against the dining room wall, pretending it was the Horne's building.  I drew him in the painting with arms crossed and looking to the side.
At that time, the movie "Dick Tracy" was in theaters, and Tom pointed out that I had painted his raincoat a little too yellow – he argued that it looked like Dick Tracy was in the painting, sporting his trademark yellow overcoat.  I did see his point, so I toned down the color of his raincoat a couple notches to a nice neutral beige.
If you look carefully at the painting, you'll notice there's a silhouette of a gentleman looking out one of the office windows alongside the tree.  Within a year of the release of the print, a man approached me at a gallery signing and insisted I had painted him in his office. He was delighted by this accidental inclusion, and I was happy to have brought a smile to his face.
One of my favorite parts of the painting is the little girl on the street, looking behind her at the Scotty dog. Even though the girl and the dog were not models and didn't represent anyone in particular, I was charmed by her childish curiosity and laughter and had to include her in the painting.
Later, I met a fellow artist who became a friend and mentor of mine over the years.  It turns out his father helped put up the Horne's tree every year.  He was so proud of his dad's contribution to the Pittsburgh holiday scene.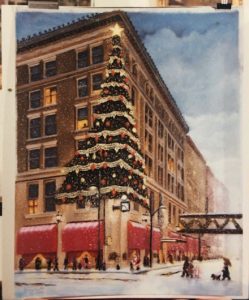 It was under Horne's Christmas Tree that Tom and I first imagined our life together and dreamed of creating our own holiday traditions with our future children.  Horne's Department Store with its magnificent tree has been a place where many wishes have been made and dreams were born, so it made perfect sense to entitle my painting "Wishing Under the Horne's Tree."
If you are interested in "Wishing Under the Horne's Tree" or any of my other paintings or gifts, just browse my website. Shipping is free, except for candles (they are just so darn heavy!).
Have a great week, stay safe, and stay healthy!