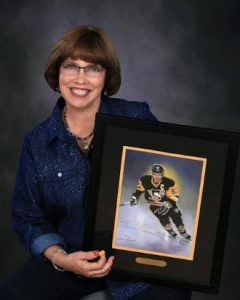 It's amazing how much you can accomplish, even when you're stuck at home.
Tom and I have been working all week, creating our front-yard garden.  I'll admit, we're pretty worn out! But it's been a real labor of love and so fulfilling, looking forward to the beauty we will see this summer every time we look out our front door.  I had hoped to have it finished in time to show you the completed garden here, but thanks to the rain, we're looking at finishing sometime early next week.  But that's okay – this will give us a chance to lay out the second load of dirt exactly the way we want the garden to flow. As you can see, even our granddaughter Aria is getting her hands dirty "helping" (actually, mostly playing in the dirt)!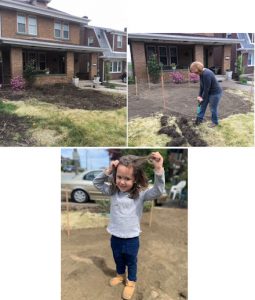 Building our garden has been really satisfying, but not nearly as exciting as the Big Event of my week!  Despite Andy Warhol predicting everyone would be famous for 15 minutes, I somehow managed to get an extra 45.
On Monday, I was interviewed by Pittsburgh's own Becky Auer, a renowned speaker, author and entrepreneur.  Becky has started three multi-million-dollar businesses and was ranked #20 in the world for small business coaching.
I was honored when Becky asked to interview me for her Spotlight Success Series.  I was super nervous about it, but she made me feel very much at ease and comfortable in the interview. Becky and I chatted for about 45 minutes about my life and career as an artist, while she skillfully used paintings and other graphics to illustrate each topic.
Now here's the amazing part… it wasn't more than a day or two later that Business Innovators Radio picked up the interview for their online Business Innovators Magazine! It was pretty mind-blowing to find myself sharing the same page with Gwen Stefani, Mark Cuban and Dave Ramsey!  So yeah, I was definitely walking on air all day.
I really wanted to share my good news with you and share the interview as well. Here's the link to the interview at Business Innovators Magazine:
https://businessinnovatorsmagazine.com/linda-barnicott-painter-of-memories-shares-her-amazing-journey-of-painting-pittsburgh/
Or you can watch it on YouTube:
https://www.youtube.com/watch?v=9ES-gxSDico&feature=youtu.be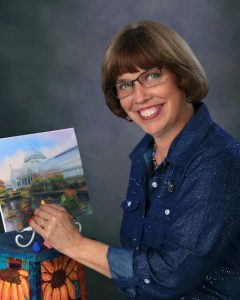 I hope you can take a little break and come into my studio and sit a spell while I tell some of my stories, smile a whole lot, and try not to stumble over my words. Just click on one of the links above.
P.S.  – Here's a shout-out to all of you who have written me personally to share your stories related to my paintings. I can't express how much joy it brings me that you care enough to write me about those memories and to know that my paintings are meaningful for you.