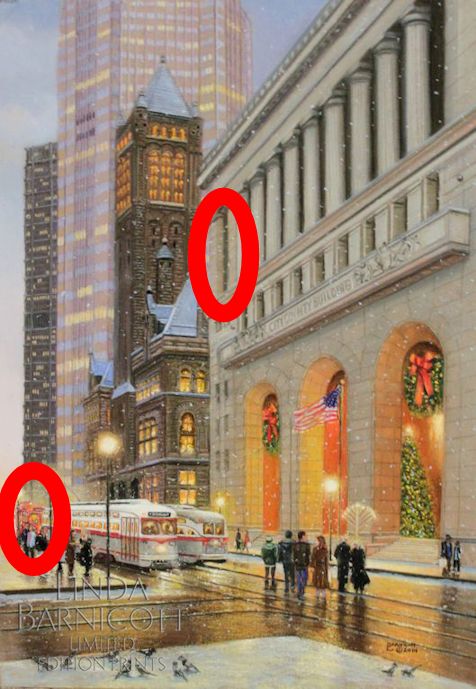 I was surprised and pleased to see how many of my readers had guesses about the last-minute changes I made on my latest painting, "Winter's Glow on Grant Street,". The answers may not be what you expected!
The first change I made is that I "turned off the lights" on the second floor of the City-County Building. I felt that the lights drew the viewer's eye away from the Courthouse, and because the painting is really all about the 125th anniversary of this remarkable building, I decided to exercise a little "artistic license!"
Number Two: The streetcars. The painting is set in 1984, a year after the building now called BNY Mellon Center (originally One Mellon Center) was built in 1983, and a year before the streetcars moved underground in 1985 to become Pittsburgh's "T" subway/light rail system. The colors of the streetcars changed around this time, and for the definitive word on the trolley situation, I consulted Scott Becker, Executive Director of the Pittsburgh Trolley Museum. I had painted the cars maroon and grey for artistic reasons, although the tri-color cars had mostly replaced them by 1984. Scott suggested that I change at least one of the trolleys to a tri-color car, as the maroon-and-gray cars were almost gone by that time. So that's why I changed the last streetcar in line to a tri-color. (I'm granting partial credit to readers who thought the front part of the tri-color streetcar was a British phone booth!)
Bonus points also go to those who pointed out the falling snow as another last-minute change. Technically, it wasn't actually a change – when I paint a winter scene, adding the snow is always the final step. But to you, it was a new addition, and you sharp-eyed readers get props for noticing it!
The finished print is now available on my website. CLICK HERE to learn more. The holiday cards will be available soon from the American Cancer Society. They'll have them available in a few days, and you can call them for an order form at 412-919-1100.
Now that my new painting is truly finished, I am taking a little time off to travel to Nashville to visit my mom – after such a hectic summer, I can really use some "Mom Time!" When I return, I'll be finishing up a portrait I'm working on for a presentation. If I can get permission from my client, I'll share the details with you in the coming weeks.
Why not take the time now to sign up for my weekly newsletters now. As a subscriber you will receive information about all of my appearances, my latest paintings and special offers only for subscribers! CLICK HERE to sign up. You will also receive a FREE slideshow showing the step-by-step development of my painting, "Celebrating Time and Tradition at Macy's".